Super League: Danny Brough says he hopes Huddersfield do not finish top
Danny Brough says he hopes Huddersfield do not finish top of the table this season.
Last Updated: 17/01/14 5:16pm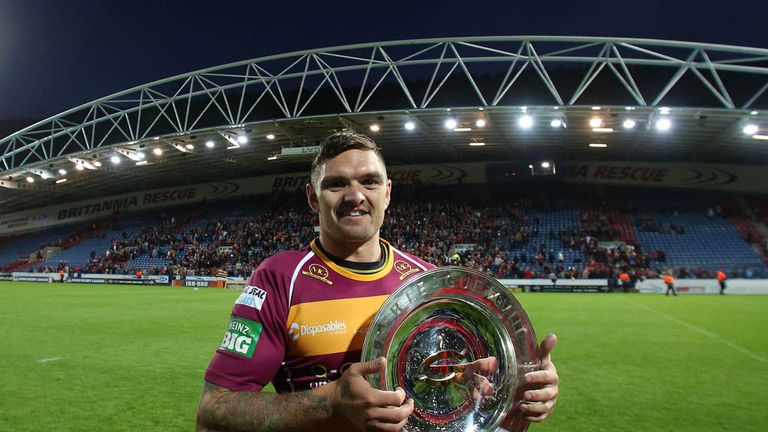 The Giants finished top of Super League last year only to suffer back-to-back play-off defeats to miss out on the Grand Final.
They lost in the quarter-final of the Challenge Cup, and skipper Brough, whose superb personal season saw him scoop a string of awards including Man of Steel, says nothing less than a title will do this season.
"The only thing that can top last season will be getting to a major final," Brough said.
"We failed at the back end again. I thought it was a massive disappointment. We didn't step up to the plate in the two play-off games against Wigan and Warrington.
"We were consistent all year and won the league leaders' shield. I don't know if a few people thought that was the job done but I thought it took a bit of the sting out of the way we were playing.
"It's something we have to learn from. This is the year where we have to really knuckle down and overcome the disappointment of last year.
"I'd like to finish in the play-offs but I probably wouldn't like to win the league leaders' shield because nobody ever wins the Grand Final after that. As long as we finish in the top five, I'd be happy with that."
Huddersfield coach Paul Anderson has signed winger Jodie Broughton from Salford, plus experienced London Broncos forwards Chris Bailey and Antonio Kaufusi.
Brough said: "He's brought three players in which has given us a bit more than we had last year and hopefully that can help us take that step forward.
Huddersfield start their new season with a trip to champions Wigan on February 7, a game brought forward by a week because of the Warriors' involvement in the World Club Challenge.
Brough said: "Players want to play against the best and we've got a chance first up to go to Wigan and get a result. It's something we're looking forward to.
"Those are the matches where you have to raise your game. Round one is like a final and that's the way we'll be treating it."