St Helens chairman Eamonn McManus predicts new era of prosperity in Super League
St Helens chairman Eamonn McManus believes a new structure could herald a new era of prosperity for Super League clubs.
Last Updated: 21/01/14 7:35pm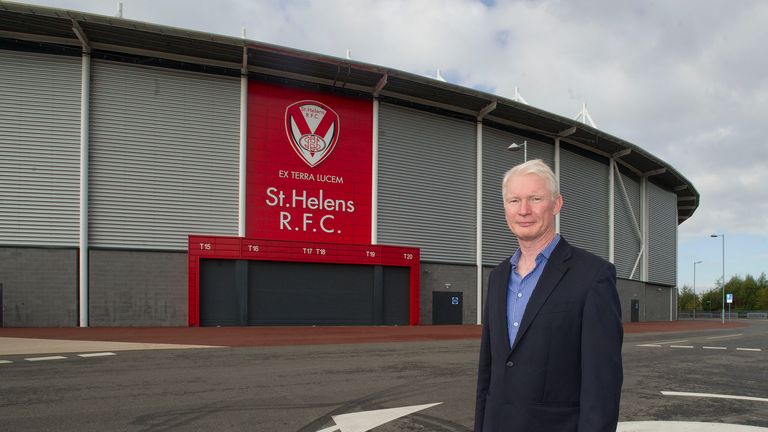 On the day Super League officials announced a three-year sponsorship deal with energy company First Utility, McManus expressed his enthusiastic support for a radical shake-up.
Two teams will be relegated at the end of the 2014 season and next year the top two divisions of the professional game will split into three of eight teams after 23 rounds to produce a series of crucial play-off matches to determine both the title and the make-up of Super League for 2016.
"We have been wholly supportive of this new system from its formal tabling some months ago, which followed a year of analysis and detailed discussion," McManus stated.
"Supporters, Super League clubs and the wider game should all benefit significantly and in equal measure.
"Over the last decade, I have been openly sceptical of some of the major commercial and strategic decisions adopted by Super League and endorsed by its clubs.
"The reduction to 12 teams and the splitting of the league season into two phases, culminating in a short and sharp play-offs, will provide interest and excitement for fans of every club every week.
"The season will be of continuous quality and intensity and will gradually build throughout and into a fantastic climax at Old Trafford."
Financial boost
McManus added: "There is no doubt that it will also provide a very strong foundation to the critical strengthening of the clubs' and the game's commercial performances and financial positions.
"It will also provide a compelling attraction to sponsors at every level. This should in turn ultimately be reflected in a materially improved media valuation which will further benefit the clubs and the game.
"There have been too many financial crises at club level in recent years.
"The new system, with its consequent real and significant benefits to all, will produce meaningful financial benefits and ensure stability. We can then approach our future with clarity and with confidence."
The Parliamentary Rugby League Group also expressed its support for the governing body.
Leeds North West MP Greg Mulholland said: "The group is delighted that the structure of the UK's elite rugby league competition has been agreed and that a headline sponsor has been announced.
"On the back of the outstanding Rugby League World Cup last year, this is just the news that the sport needed in 2014."