Super League: Dream come true for Iafeta Paleaaesina
A new-look Iafeta Paleaaesina will be a man on a mission in 2014 after being thrown a Super League lifeline.
Last Updated: 23/01/14 8:25am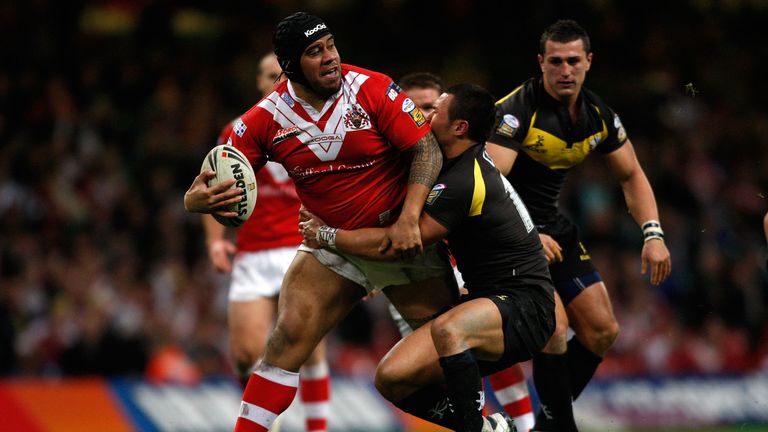 The former Wigan and New Zealand international front rower was left without a club when Salford declined to offer him a new contract at the end of the 2012 season and he ended up signing for French part-timers Limoux.
When an offer came out of the blue from Hull, the 31-year-old Paleaaesina could not wait to put pen to paper - once he realised it was genuine.
"When I got an email from Hull FC, obviously I thought it was a prank at first," Paleaaesina said.
"Then I got a phone call and I spoke to the coaching staff. I flew over and that's when I knew it was real.
"I had my medical and signed. It was a dream come true to come back to Super League and to a massive club like Hull FC.
"It's massive for me and I've got to repay the favour by playing well week in, week out.
Grateful
"I'm truly grateful for the opportunity and I'm just excited to get the season under way."
Paleaaesina had two years left on his contract with Limoux but was determined to take the opportunity to return to England, not least for his Wigan-born wife Michelle and their two young children.
"It was pretty hard for her over there because we were the only English-speaking couple with children in our team so she was on her own when I was at training," he said.
"She toughed it out for me but she was keen to come back. They would have liked me to stay but my family comes first and it was an opportunity for me to play at the highest level again."
Wigan and Salford fans might struggle to recognise the former crowd favourite because he has trimmed down to a little over 16st, having shed more than two and a half stone from his last time in Super League.
"I was over 120 kilos when I was at Salford," he said. "I'm 104 at the moment. So I've lost quite a lot of weight, not just from the training and eating right.
"It was bit of a blessing in disguise going over to France because it made me appreciate what I had.
"We had to take our kits back home and wash them ourselves and pay for our training kit so it was like being back as an amateur. Here everything is pretty much given to you."