Super League: Jamie Peacock has signed a new contract extension with Leeds
Former England captain Jamie Peacock has shelved his retirement plans after signing a new two-year contract with Leeds.
Last Updated: 27/01/14 8:32pm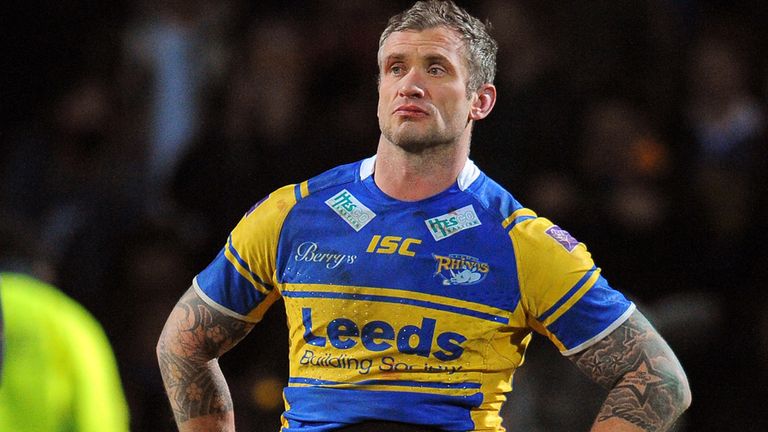 The ex-Bradford skipper, who turned 36 in December, had indicated 2014 would be his last season when he signed a new two-year deal in March 2012, shortly before stepping down from the international scene.
However, the front row forward produced some of his best form in 2013 and on Monday agreed a contract extension that will take him to the end of 2015, when he intends to retire, just short of his 39th birthday.
"I am pleased to have agreed the new contract," Peacock said at the Rhinos' pre-season media day at Headingley.
"I am looking forward to the new season and the next two years. Last year was the first time in over a decade that I had a full off season and I can feel the benefit of that again this winter as I look towards the new campaign.
"I still have a lot of goals I want to achieve in the next two seasons and high in those priorities is helping the transition of this group of players onto the next stage of their career, and helping the Rhinos maintain the success we have had in recent years."
'In great nick'
Leeds coach Brian McDermott, who was a player at Bradford when Peacock made his Super League debut in 1999, believes he could play on beyond the length of his new contract.
"We'll have a look at the end of that contract and we'll see," said McDermott. "I'm not going to say 'no'. He's just in great nick. Whenever we do conditioning, JP's up there.
"He's incredible and he's not just a machine, mentally he's getting better and his influence over the group is immense.
"You'd put him up there, if not higher, than (former Australia and Fiji international) Petero Civoniceva with his standing in the game, He's one in a million. I don't think we'll get another one like him.
"I'm lucky to have him. He has an influence over the coaching side of things but I think JP has other things in his life. His desire is in administration. I think he wants to take over the world."