Super League: Leeds Rhinos' Zak Hardaker aiming to keep full-back spot
Leeds' Zak Hardaker is looking to cement his full-back spot in the team having already played in a number of positions.
Last Updated: 30/01/14 12:51pm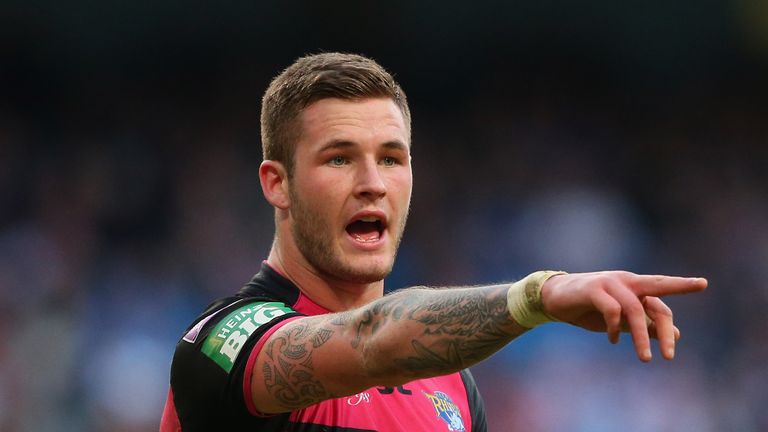 The 22-year-old signed for the Rhinos from Featherstone in 2011 as a rough diamond but has since gone on to make a name for himself as one of the best young players in the league.
Despite the arrival of Tom Briscoe, Andy Yates and Paul Aiton during the off-season, Hardaker believes the competition for places can only be a good thing for the Rhinos.
"It's really exciting," he said. "The additional signings we've made are really good for the squad so it means everyone can fight for their place and everyone will give 110 per cent in training.
"If everyone is doing that then hopefully everyone is learning off each other and that improves you as a player.
Dropped
"Sadly somebody is going to be dropped, not just in the backs but in the forwards as well, so hopefully it's going to be drilled in to the players to give their best through the week.
"That's what we are all about at Leeds. We want to win something this year so it's good for competition and everyone is fighting for their position. At the moment everything has been really good."
Having started his Rhinos career on the wing, Hardaker has also played at centre; stand-off and most recently at full-back.
However when questioned at the Rhinos' pre-season media day, the England international was quick to joke about his position for the up and coming season.
"Put me at prop and I'll give it a go but I'm not sure I'll be any good. If Peacock gets injured then I'll have to put a bit more weight on and get up front. I'll play anywhere.
Opportunity
"When I was at Featherstone I was only small so I played full-back and then the opportunity came on the wing for me so they put me out wide. Obviously I scored a few tries and Leeds snapped me up.
"When I first arrived the starting wing was injured, the reserve wing was injured and the reserve reserve wing was injured so I played against St Helens and scored two tries which was brilliant for me.
"Obviously I got injured after that but when I was coming back some of the centres like Kallum Watkins were out so I played the remaining 12 games at centre and scored in the Grand Final so it was an overwhelming first year for myself.
"You need a bit of luck in this game and I certainly got it that year.
"The second year I started at centre but Brent Webb got injured so I slotted in at full back and then at the start of the third year I got the number 1 shirt. Luckily I've stayed in there for a long period of time but like I say I'll play anywhere."