Salford's Gareth Hock not interested in England while Steve McNamara remains at helm
Gareth Hock has no intention of playing for England while head coach Steve McNamara remains in charge of the side.
By James Pearson
Last Updated: 06/02/14 4:43pm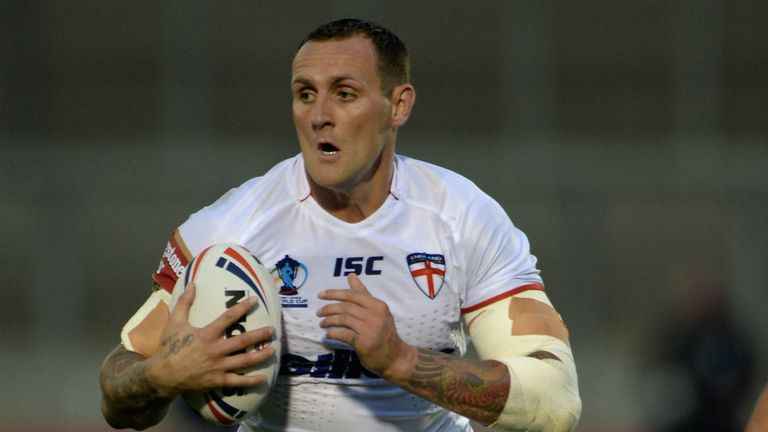 Hock was part of McNamara's World Cup squad last year but was axed before the tournament after missing a scheduled swim and medical due to sleeping in following a night out in the wake of their surprise friendly defeat to Italy.
The 30-year-old was disappointed how McNamara handled the affair, opting to drop him over the phone rather than sitting down with him and discussing the situation.
Hock, who spent last season on loan with Widnes Vikings, joined the Red Devils from Wigan and is looking to focus his efforts on his new club and not on his international future.
When asked if he had moved on from last year's England disappointment, Hock told Sky Sports: "It's all behind me. I just want to concentrate on Salford and the exciting times here.
"I put a lot of hard work into England. Being at Widnes and stuff like that I had to stand out a bit more because I wasn't in a team like Wigan, but I got in the squad. Like I said I put in a lot of hard work in, fitness and stuff, and trained all the way through from the initial group to South Africa.
"(I) got kicked out for something I don't think I should have been kicked out for, but it happened and I'm not really too bothered about that now. I'm just bothered about playing for Salford now.
Harsh
"I'm going to play well and stuff but if Steve Mac (McNamara) was still at England I don't think that I'd go back because I think it was a bit harsh what he did to me. He didn't sit me and down and talk to me, he just rang me up and told me over the phone so if he was still there I'd just play for Salford.
"I'm just going to concentrate on Salford and if Steve Mac's still there I'll leave it and put all my effort into Salford. I thought I could have helped the England team quite a bit in the pack. It's just the way it goes. Forget about it now."
Salford owner Marwan Koukash has lofty ambitions for his club. He hopes the Greater Manchester side finishes no lower than the top six and ideally inside the top four.
Hock is joined at Salford by the likes of fellow new faces Harrison Hansen, Rangi Chase and Tim Smith and sees no reason why the Red Devils cannot fulfil those aims.
"I believe it can be done. We've got the team to do it," he continued.
"From what I've seen in training and in South Africa we really are a close group and everyone gets on. There aren't any groups. We're all close knit. I think there's a good chance.
"Everyone has really gelled. We've had some good meetings. What we expect from each other - we've set our goals really high. Everyone is looking forward to it."