Super League: Bradford Bulls left 'baffled' by talk of Garreth Carvell moving to Hull FC
Bradford have issued a hands-off warning to Super League rivals Hull over their attempts to re-sign Garreth Carvell.
Last Updated: 06/02/14 4:43pm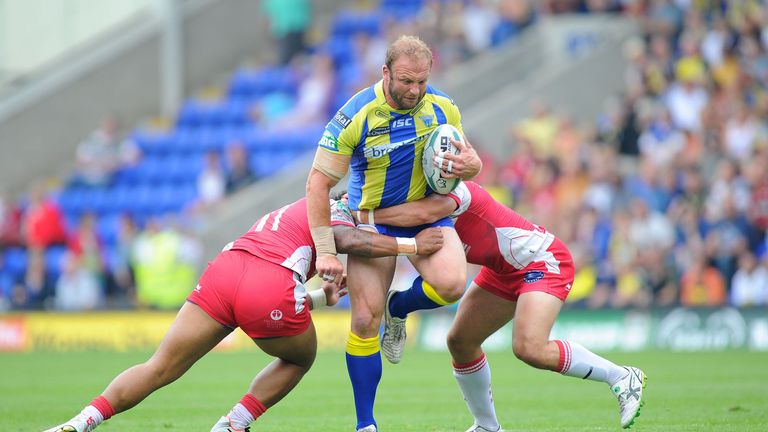 The 32-year-old only joined the Bulls in the close season from Warrington on a two-year deal but that did not stop Hull confirming their interest in the player.
The Black and Whites have been hit by injuries to front-row duo Liam Watts and Chris Green ahead of the new season and said on their website they were "monitoring the on-going contract situation" concerning Carvell.
However Bradford have quickly responded, stating once again that "no one is for sale" and that they've been left "baffled" by talk of the England international's possible departure.
A statement said: "We are shocked and disappointed by some of the comments made today regarding one of our players.
"To say we are baffled by talk that another club is 'monitoring' an 'on-going contract situation' would be an understatement.
"We can confirm that no form of deal has been sanctioned by the board of directors.
"Recent reports have and are continuing to cause major confusion and distress among our supporters, while undermining our efforts to re-build this club - with extremely limited resources.
"Agents and clubs need also to be mindful of the confusion and distress in which these kinds of approaches can cause for players and their families.
"We are operating with only half of the central funding provided for our Super League rivals and we have been through a very difficult time.
"Our message is very, very clear: Leave our team alone. No one is for sale.
"The announcement to ring-fence of our first-team squad last week was designed to create some stability for the players, while offering Francis (Cummins) the support he requires as head coach."
Proper manner
Carvell made 164 appearances for Hull from 2001-08. He then moved on Warrington, appearing in the last two Grand Finals with the Wolves.
The statement added: "We are not foolish enough to believe that talks do not go on between players and clubs during a season, but they must happen in an appropriate manner and at an appropriate time.
"And we would ask all clubs to act in a right and proper manner, in keeping with the family spirit of rugby league."
The Bulls' directors and HR representatives are to meet with the squad later on Thursday to once again outline their contractual position. All the players have been transferred to a new company, Bradford Bulls 2014 Ltd, after the original firm went into administration.
The club are facing a possible points deduction and will meet with the Rugby Football League, who are also looking into the Carvell situation, on Friday.