England rugby league coach Steve McNamara feels Sam Burgess would do well in union
Sam Burgess would be a success if he moved from rugby league to rugby union, says England head coach Steve McNamara.
Last Updated: 07/02/14 4:23pm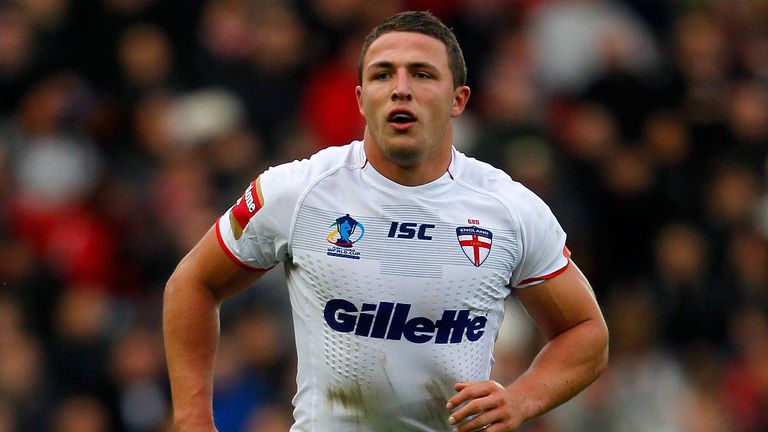 But the national team boss feels losing the 25-year-old former Bradford forward to the 15-man game would represent a 'huge loss' to the sport.
There has been speculation that Aviva Premiership club Bath are putting together a package to sign Burgess from South Sydney Rabbitohs, a deal which could be partly funded by the Rugby Football Union.
Burgess is still under contract with the NRL club, for whom he is the captain and with whom he has earned All-Star selection, until 2016 and a fee of around £500,000 would be required to secure his services.
"It's absolutely everywhere," said McNamara, who is also currently in Sydney as an assistant coach with the Roosters. "Right now it is all speculation, nobody has come out and said he's going.
"But we all recognise what a huge loss he would be to the game of rugby league and specifically the England team.
"He was pretty sensational for us at the end of last season
"Sam is the jewel in the crown of rugby league at the minute but I'm sure he will make the best decision for himself."
Skills
Burgess has been touted as a future captain of the England rugby league team, for whom he was man of the match in the World Cup semi-final defeat to New Zealand in November.
As Bradford coach, McNamara gave Burgess his Super League debut at just 17 but has yet to speak to Burgess over his proposed switch.
He does, however, have no doubt the player could adapt to the 15-man code, where he is seen as an inside centre.
"He's not talked directly about his plans," McNamara said. "We speak a fair bit about various different things.
"He was very young at Bradford, going through some pretty tough times, with his father's illness and learning to be a Super League player, and we are very close in terms of that.
"Sam will speak to me at the right time I am sure.
"I just think he's a fantastic physical specimen. He's got great skills, is quick for a big man, he's got all the attributes to be probably whatever he wants to be.
"Hopefully, he'll stay in rugby league and hopefully he'll continue to be part of the Souths and England rugby league team.
"But I am sure, if he did decide to change sports, he would be a success."
Money
Bradford coach Francis Cummins echoed the thoughts of McNamara, feeling the decision may ultimately become a financial one.
"He's a tremendous athlete and he's a a great rugby player so I'm sure he's got the skills to transfer, he said.
"We don't want to lose players like that but it's a short career and if you get offered a boatload of money you have to make a decision. Money talks."