Super League: Salford Red Devils owner Dr Marwan Koukash eyes "special" signing
Dr Marwan Koukash says Salford are looking to get an exemption from the salary cap to sign a "very special player".
Last Updated: 07/02/14 1:54pm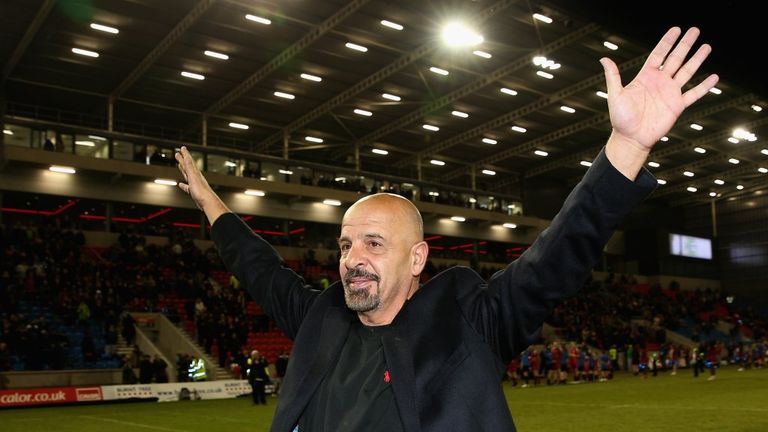 Backed by the financial clout of their owner, the Red Devils have signed 14 players in the off-season - including the likes of Adrian Morley, Gareth Hock and Rangi Chase.
Koukash admitted that the club had already spent up to the salary cap - which is around £1.8m per side, per season - but is hopeful of finding a way around this to secure one more high-profile signing.
"We have spent the salary cap now but I need an exemption from that salary cap to bring in a very very special player," Koukash told Sky Sports News.
"If we can be given the go-ahead, yes I would like to bring in one more player."
Salary cap
Racehorse owner Koukash has spoken out in the past against the salary cap, suggesting it should be amended or scrapped to allow clubs to compete financially with the money on offer to players in Australia's NRL and rugby union.
In May last year, the Rugby Football League ruled that the cap would not alter for this season but it has been suggested that Super League could introduce an exemption to the cap for marquee signings from the 2015 season.
However, sustainability in the sport remains a significant issue with both London Broncos and Bradford Bulls entering administration in recent times.
At the start of this month, the Bulls were bought by Bradford Bulls 2014 Ltd who insist the club's Super League status is secure.
The Broncos were only able to ensure they would fulfill their Super League fixtures for the 2014 season after agreeing a groundshare with Barnet Football Club in December last year.