England head coach Steve McNamara happy selecting Kevin Sinfield
Steve McNamara says Kevin Sinfield will lead England in the 2014 Four Nations Series as long as he is in form.
Last Updated: 07/02/14 5:42pm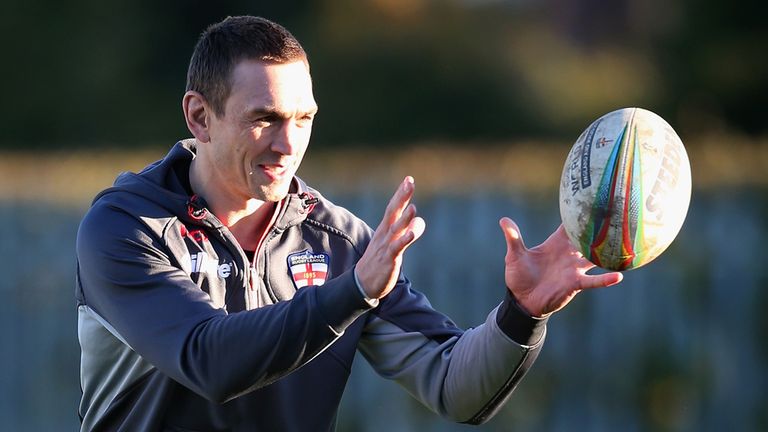 Leeds' long-serving captain, who turns 34 before the end of the season, recently announced he wants to prolong his international career and on Friday McNamara said the goal-kicking stand-off remains in his plans.
McNamara, who has reverted to part-time status following his move to Australia to work as an assistant coach with Sydney Roosters, went further by revealing he intends to retain the nucleus of the squad that went within 20 seconds of reaching the Rugby League World Cup final last season.
With no mid-season fixture, England's next match is expected to be against Samoa or Fiji in the opening round of the Four Nations Series in Auckland on the weekend of October 25 and McNamara, whose contract has been extended by 12 months, has his sights set on silverware.
Decisions
"When we got back from the semi-final at Wembley, we had some decisions to make about how we want to push onto the next stage and the next stage is a Four Nations in Australia," explained McNamara.
"Not everybody in that group will be available for the next World Cup in four years' time but every one of them will be available in my opinion for the Four Nations.
"It's up to their form throughout the season but hopefully we can keep the group as close as we possibly can together and make some really strong additions from some young quality players in the English Super League and have a real crack at the Four Nations.
"In the past we were talking about four-year cycles but post-World Cup I think we need to look at a one-year attack on this tournament as opposed to looking too far to the next World Cup.
"We need to try to knock a tournament off and, if we can do that in Australia and New Zealand, it could probably be as big, if not bigger, an achievement as winning the World Cup."