Super League: Bradford Bulls taking legal action following Garreth Carvell's exit
Bradford are taking legal action after Hull FC announced the capture of Garreth Carvell on a one-year deal.
Last Updated: 12/02/14 8:50pm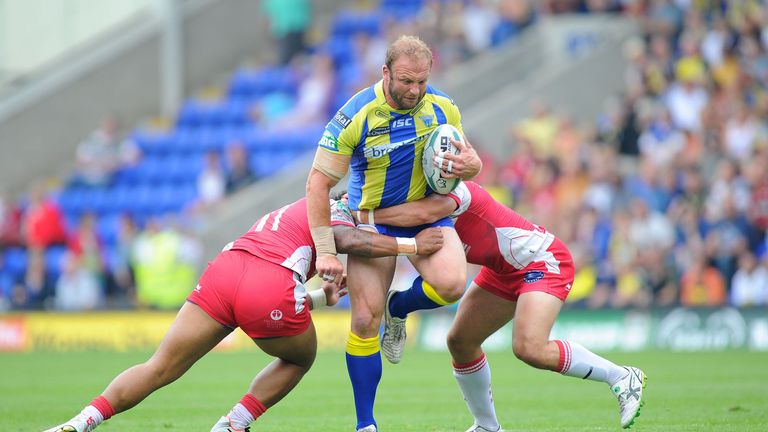 The Bulls landed Carvell last season from Warrington Wolves on a two-year deal and have been paying the player along with handing him a club-sponsored car.
Bradford have expressed their great surprise the former England international has been registered by the East Yorkshire club with the Rugby Football League (RFL), a move which has now forced their hand.
"This information has come as a great surprise to all of us at the club. We believed that due to Gareth taking wages since last year and the fact that he still now has a club sponsored car we would be able to come to an understanding that would work out for all. We have now been left with no alternative and will now be taking legal action," read a statement on the club's official website.
"A letter was sent to Carvell last week from the club's HR specialist, 'Elcons' explaining that they did not accept his refusal to transfer to Bradford Bulls 2014 Ltd, adding that his playing contract will only allow him to resign if the club is guilty of serious and persistent breach of the terms and conditions of this agreement.
No breach
"We are of the opinion that no such breach has taken place and therefore we assert that he was not entitled to resign from his position as the transfer of his employment in itself does not constitute a serious or persistent breach of the terms and conditions of his agreement.
"The letter went on to explain the Agreement which was entered into last year is with "the Club" being referred to as "Bradford Bulls".
"The change in ownership does not affect this Agreement given that Bradford Bulls remains as the Club.
"The letter finished off by requesting that Carvell return to work/training immediately.
"The club's board will now turn back to the governing body to request guidance in this matter as well as moving forward with their own legal action.
"The board in no way wants to restrict a player from plying their trade but this and recent situations like this could set an extremely dangerous precedence in regards to player contracts, and if all parties are not made accountable they be viewed as 'not worth the paper they're written on'."