World Club Challenge: Wigan Warriors coach Shaun Wane targets next year
Shaun Wane's enthusiasm for the World Club Challenge remains undimmed by Wigan's 36-14 defeat by Sydney Roosters.
Last Updated: 24/02/14 1:45pm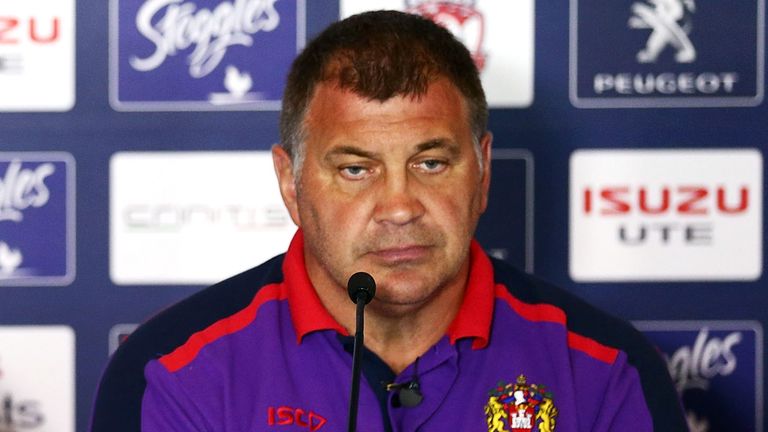 Wane took the Warriors to Australia for the annual challenge match in the hope of repeating the club's famous victory over Brisbane Broncos in 1994.
But the Super League champions never recovered from conceding three tries in the first 22 minutes at the Sydney Football Stadium.
Wane has taken some positives from the defeat though, and he is confident his Wigan side will learn from the experience and return to the same stage in the future.
"The trip has been a great experience and we have loved it," Wane said.
"That sort of speed of game has been a great experience for my young players and it has given them the want to come back here again and we will.
"I want to win the competition in England and come back here again - there is no question about that."
Sydney Roosters coach Trent Robinson has given his backing to Leeds Rhinos chief executive Gary Hetherington's call to make the event a six-club competition featuring the top three teams from Australia and England.
The former Catalan Dragons boss has been frustrated at the lack of promotion for the match between the Roosters and Wigan.
Huge event
Robinson said: "How much time and effort did we put into preparing this as a competition?
"We underestimated the crowd and we underestimated the occasion for Australian fans. We can easily make this a huge event.
"Next year, if a team goes over there, there'll be more supporters watching that game.
"Every second year we need to rotate countries, but that should have been 43,000 - we could have got that there if we market it really well. There was Souths-St George down at WIN Stadium two hours before we played.
"We need a better effort than that. We could really lead up to this game on a Sunday. Those clubs over there are saying we want to come down here and do that.
"Our pre-season is a bit muddled at the moment. It needs to be structured but we definitely can do it."