Super League: Clubs reject Marwan Koukash's marquee rule proposal
Super League clubs have rejected a proposal by Salford owner Marwan Koukash to introduce a 'marquee player' rule.
Last Updated: 26/02/14 5:24pm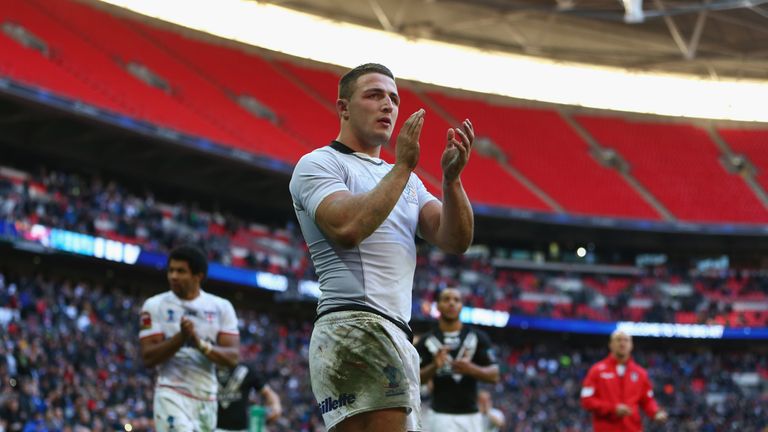 Only Wigan, Warrington, Leeds and Widnes, along with the Red Devils, supported Koukash's idea of making a high-profile signing exempt from the Super League salary cap at a meeting at Hull's KC Stadium on Wednesday.
"Super League clubs voted against the introduction of marquee players," Koukash revealed on social media.
Koukash wanted to introduce the marquee player in a bid to reverse the growing trend of players leaving league for rugby union and the National Rugby League.
The millionaire racehorse owner wanted to go further with his plan by introducing a "golden ticket" which would allow clubs without the financial clout to make marquee signings to sell on the right to another club but that idea was not even discussed.
The controversial Koukash, who failed in a £1million bid for Sam Tomkins before the Wigan and England full-back made the move to the NRL, says he had lined up a high-profile signing from the NRL and insists he will fight on to force a relaxation of the salary cap.
"It is very frustrating but I will not give up on the idea," he said. "I will have to look at other ways to bring in players.
"I think the RFL have probably seen today that the game may be being held back by a group of clubs."
Koukash says he tried to lure Sam Burgess to Salford before the England international agreed a move to Bath rugby union and has openly talked of bringing Sonny Bill Williams and Billy Slater to Super League.
Targets
Salford coach Brian Noble had hailed the "golden ticket" plan and confirmed he has identified rugby union targets for Salford.
The former Great Britain coach signed Wales winger Gareth Thomas for Wrexham-based Super League club Crusaders in 2010 and is currently being linked with England centre Manu Tuilagi.
"The game needs superstars," Noble said. "In the year Gareth Thomas signed the copy went through the roof.
"We have trouble getting national coverage and, unless we do things out of the box, some innovative things without breaking the bank of the game - there needs to be a bit of sobriety around finances - then do it.
"If someone wants to spend money on getting some stars in the game, then I'm all for it.
"Financially, you have to compete with rugby union for the player and you have to give him a product that is attractive.
"The player has to want to come and play rugby league. It's a little bit like Sam Burgess going to rugby union - I'm pretty confident there is an element of challenge in there for him because of the guy that he is.
"I think there are lots of rugby union players out there who have the ability to make rugby league players."