NRL: Newcastle Knights' Alex McKinnon breaks neck in three-man tackle
Newcastle Knights' Alex McKinnon broke his neck after landing on his head following a horrific three-man tackle.
Last Updated: 25/03/14 9:22am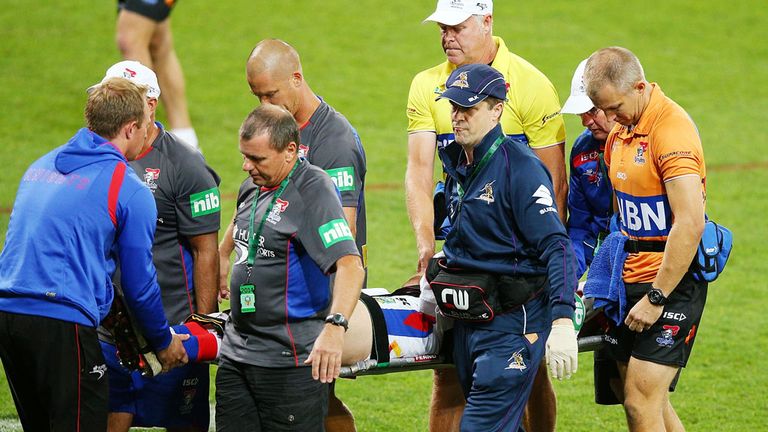 McKinnon suffered two fractured vertebrae in the closing stages of the first half in the Knights' NRL clash with Melbourne Storm and it is not yet known if there are any long-term implications for him.
The second row was tackled by three players, one of who lifted one of his legs off the ground.
McKinnon was fitted with a neck brace and carried off the pitch on a stretcher before being taken for scans at a Melbourne hospital, where his family later joined him.
"Scan results for Alex McKinnon confirm a fracture at C4 and C5," said a statement on the Newcastle Knights website.
"His spinal cord is not severed but the doctors are unsure about the level of spinal cord compromise.
Waiting game
"It will be a number of days or weeks until the extent of his injury is known."
Injuries to the cervical spine, the area around the neck, are among the most serious to occur in rugby.
Rugby union has in recent years handed out long suspensions to players found guilty of spear, or tip, tackles.
The Melbourne Storm tacklers - Jordan McLean and brothers Kenny and Jesse Bromwich - were put on report after the incident and could be punished after a review of the footage by a disciplinary committee.
NRL chief Dave Smith insisted that spinal injuries are extremely rare in rugby league.
"Our entire focus is on Alex's wellbeing and we wish him a full recovery," he said.