Rugby League Expert & Columnist
Gareth Hock is a 'very talented player', but he needs to realise he is a professional
Stevo says Salford man needs help from his club to control behaviour
Last Updated: 18/07/14 2:05pm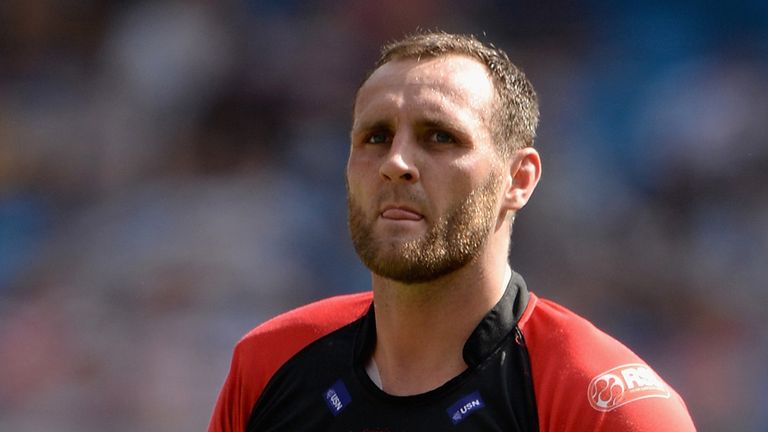 Mike Stephenson says that Gareth Hock's seven-match ban for deliberately colliding with a referee is fair and reflective of the severity of his actions.
This is the player's third ban relating to making contact with a referee. In 2008 he was banned for five matches for pushing a referee and last year he received a four-match ban for deliberately making contact with an official.
Those bans were received in addition to a five-match ban for gouging and punching a player, and a two-year ban in 2009 for testing positive for cocaine.
He has a problem in many ways because he sometimes just loses the plot.
Mike Stephenson
Salford have decided not to appeal against the latest ban received by their player, who Stevo feels needs help in controlling his behaviour.
"This is not the first time he's made actual contact with an official," he told Sky Sports.
"You'll see quite clearly that on this occasion he could have pulled out, but obviously had trouble with his brakes. There is no doubt that he put the official on his backside.
Very talented
"He's a very talented player, but he always seems to put himself in a position where he is on the wrong side of the law.
"What they have to do is try to decide how they can keep this man under control. He certainly needs a little bit of help.
"The guy can't get away from publicity of the wrong kind. He has a problem in many ways because he sometimes just loses the plot."
Tetley's Challenge Cup Tickets
Tickets to the Tetley's Challenge Cup at Wembley Stadium, Rugby League's iconic knock-out competition, available with Sky TIckets.
Click here for further details
Whilst suggesting the responsibility of helping Hock control his behaviour falls with his club.Stevo did, however, indicate that controlled aggression is needed to succeed in this sport.
"It's a very aggressive sport, rugby league - it's that type," he added.
"It is a problem that if you do not have that aggression in our sport then I'm afraid you probably won't achieve anything very worthwhile - especially if you play in the forwards. It is a tough, rugged sport."
However the former England international stopped short of showing sympathy for Hock's actions.
"He has to realise that he is a professional rugby league player."