Super League: On-loan Jimmy Keinhorst eager to play for Wakefield Wildcats
Last Updated: 18/07/14 10:01am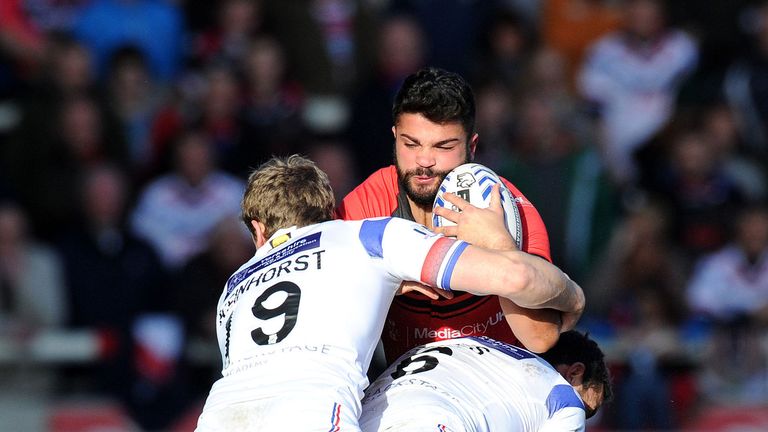 Jimmy Keinhorst is hoping to finish the season on the pitch for Wakefield Wildcats during an injury-hit season-long loan.
The Leeds centre made his return from a hamstring injury in Wakefield's recent 16-14 Super League success over his parent club.
However, the 24-year-old Germany international has been restricted to just four appearances for the Rapid Solicitors Stadium club.
Keinhorst suffered a hamstring injury on his Wildcats debut only suffer a recurrence on his comeback against St Helens in March. He has felt no ill-effects in recent weeks and wants to play as much as possible.
"It is good to be back playing again," he told the Yorkshire Evening Post.
Frustrating
"It has been a pretty frustrating season up to now, with the injury, but I am back now and hopefully I will get a good few games in before the end of the season."
"Initial thoughts were it wasn't too bad," he continued on his hamstring strain. "When I came back I got a worse tear and it put me out for a considerable amount of time.
Hopefully I will get a good few games in before the end of the season.
Jimmy Keinhorst
"With something like that you don't expect to be out for so long so it got a bit frustrating for me. Sometimes these things happen and you have to be patient and get it right. I had to make sure it was right this time around, before I started back playing again.
"I got back from the shoulder injury and I was all fine and ready for the start of the season. I was hoping to hit the ground running and get some good games under my belt, but that has not been the case.
"But you have to take it as it comes. Looking forward, I want to play in as many of the games left as I can and hopefully I can have an impact in them. I have got through both games so far injury-free and I am happy with that."