Tetley's Challenge Cup: Castleford Tigers winger Justin Carney is raring to go
By Jonathan Doidge
Last Updated: 21/08/14 4:18pm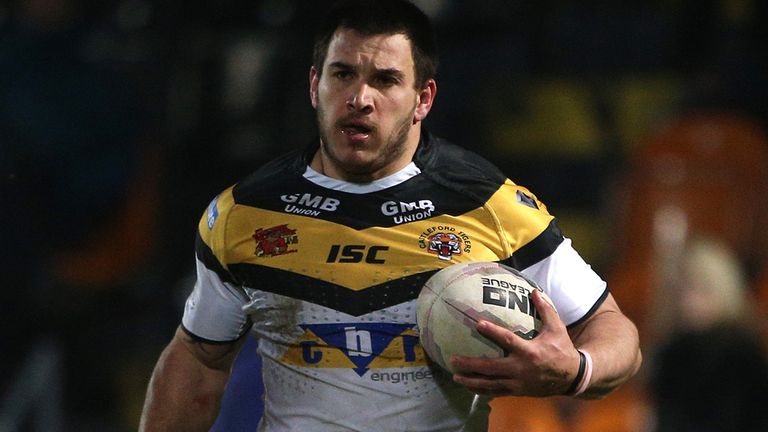 Castleford Tigers' Justin Carney can't wait to experience the buzz of his first senior final at Wembley on Saturday.
The winger is set to feature against the Leeds Rhinos in the Tetley's Challenge Cup as Castleford push to win the trophy for the first time since 1986.
However the Australian, who was born in the small country town of Trangie and previously played for the Canberra Raiders and Sydney Roosters, admits that until he came to England he knew little about the competition.
"To be honest where I come from is in the middle of nowhere so the Tetley's Challenge Cup is not really a thing we really know much about," he told Sky Sports.
"However, as soon as I arrived here, well it's all Cas really talk about, so I've learned pretty quickly that this is everything to Cas and it's just great to be a part of, it really is.
"It's a great atmosphere and buzz at the minute and I am really looking forward to it."
We all know what Wembley is all about. Just to play at Wembley is enough. If I walk out to a sea of black and amber I don't know what my reaction will be. I'll probably start crying! It will be awesome.
Justin Carney
Carney's nickname 'The Beast' is down to factors such as his stocky physique, his aggressive style of running and his combative approach to the sport.
Already banned on two occasions this season, including missing last week's defeat to Warrington, the 26-year-old says he cannot wait to get back on the field.
"I'm feeling pretty fresh actually because I haven't played in two weeks," he continued.
"No ban is good but I can certainly say I am fit and raring to go. I am really up for the challenge but the ban, well no one else is to blame but myself for that."
Despite missing a few matches due to those suspensions there has been little wrong with Carney's finishing. So far he has scored 22 tries in all competitions this season and he cannot wait to test himself against the Rhinos.
"On paper Leeds are nearly the best side anywhere in the world. They're right up there so it will be a big challenge but I think we're up to it," he said.
Admirer
Castleford's opponents will have two of the best wingers in the game lining-up on Saturday in Tom Briscoe and Ryan Hall and Carney is an admirer of both as masters of their craft.
"As a winger Ryan is pretty much what you strive to be. He's big, strong, fast, takes the high ball well, he can break tackles like I've never seen and of course he can finish in really tight spaces, so he's got it all as a winger," he said.
"Tom is deceptively very very strong. He's very quick too which you don't realise until you're up against him. Their whole backline is world class so as an outside back we've got a huge challenge," he added.
Carney, who scored 26 tries in as many appearances last season, is full of praise for his Tigers team-mates.
"It's pretty easy in my job, I just run along the side line but you've got the likes of Dorny (Luke Dorn) and Shenny (captain Michael Shenton) inside, then of course Marc Sneyd who's having a great season too, so just to be a part of that side and the game is all you can ask for."
His biggest pat of the back, however, is for veteran prop Andy Lynch, whom he is convinced is destined for other honours this season. Having begun his career at his hometown club, Lynch returned there in 2014, via spells with both Bradford and Hull FC, and he has been a big influence on what Castleford have achieved.
"He's the Man of Steel I reckon," said Carney.
"He's probably the mentally toughest person I've ever seen. People talk about Jamie Peacock and the work that he gets through and rightly so, but Lynchy is right up there with him. He's unbelievable. I can't say much more than that and I reckon he's a huge candidate for Man of Steel."
A crowd of around 40,000 is the biggest that Carney says he has played in front of, at Brisbane's Suncorp Stadium in a semi-final for Canberra, though he says he half expects what is to come when he finally gets to walk out at Wembley in front of over 70,000 people on Saturday.
"No country in the world sings like the English," he joked.
"When there are 12,000 in at our home ground I've never heard anything like it, so 70,000 people at Wembley will be amazing.
"I think it's important to enjoy the atmosphere but don't let it hinder your performance because that's when it can go pear-shaped.
"We all know what Wembley is all about. Just to play at Wembley is enough. If I walk out to a sea of black and amber I don't know what my reaction will be. I'll probably start crying! It will be awesome."