Tetley's Challenge Cup final: Kevin Sinfield finally savours winning feeling
Last Updated: 26/08/14 3:02pm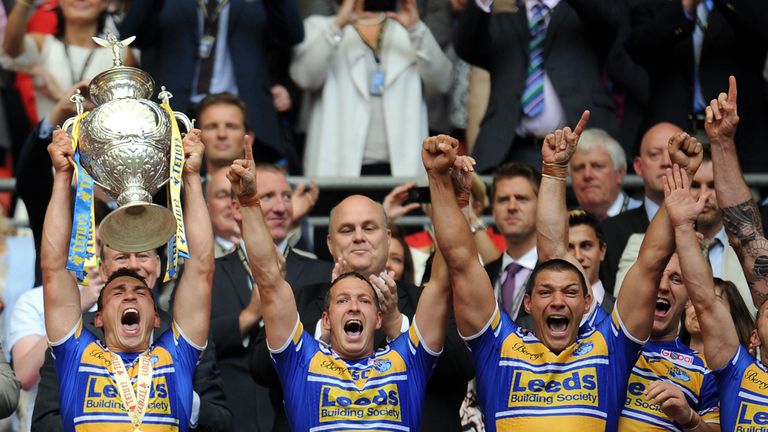 Leeds captain Kevin Sinfield spoke of his relief after finally getting his hands on the Challenge Cup after Leeds' 23-10 victory over Castleford in Saturday's final at Wembley.
The 33-year-old England international played in five of Rhinos' six losing finals since they last won the trophy in 1999 but two tries from Lance Todd Trophy winner Ryan Hall and further scores from Tom Briscoe and Danny McGuire ensured their recent anguish in the competition is now at an end.
Sinfield told BBC1: "We've been there (the final) a few times obviously and come away with second prize so (it is a relief) to finally get over the line.
First Utility Super League Grand Final
Tickets for the Super League Grand Final at Old Trafford are now on sale - tickets from £20 with no booking fees.
"We were really relaxed about this one and it's not been a crusade at all, we wanted to win it for the right reasons and it just shows sometimes that you have to persevere to come through.
"To lead the side out five times (at Wembley) and have to walk up (the stairs) having lost is tough and sticks with you but hopefully to all our fans, family and friends today makes up for it."
Leeds head coach Brian McDermott said: "It will take a while to come up with the right phrase to sum up the feeling.
"We have been striving for this for so long, the club has, and to eventually get it is a big feeling.
"For the players it's a sense of relief, elation. They're an emotional bunch right now but we feel like we have delivered something. I feel like I have delivered something. We have picked up six silver medals but now we have a gold, and that's a big feeling."
Leeds have been the kings of the league in the last decade, with Old Trafford a second home to them. Their cup struggles, though, have bewildered them and amused rival supporters.
History
"A lot of this (feeling) is down to the history," McDermott added. "It's the journey there; I haven't coached every one of those six losses but I feel it, you feel that mounting pressure.
"This is a different feeling entirely."
Much was made of the lack of big-game experience in the Tigers side ahead of kick-off, but Cas head coach Daryl Powell thought Leeds were simply too quick and too cohesive.
"We recognised there was a challenge laid down in the first half by Leeds that we didn't go with particularly well," he said.
"We did show courage, determination, but we were never quite good enough to score enough points to put Leeds under the intense pressure we needed to.
"The first half was disappointing. Leeds were very good, their kicking game excellent, they challenged us is certain areas of the field and our response was never really good enough."
Castleford have been one of the stand-out teams of the season and remain firmly in the thick of a battle to win the Super League title.
It is not inconceivable that they could meet Leeds again at Old Trafford in October and Powell is keen to make sure that his men learn the lessons of this big-stage loss.
'The feedback from them is that the preparation was great so we need to see what the reasons were that we didn't deliver," he added.
"We needed to see why, as a group, did we not deliver our best performance. Our best performance would have made it a tight game. We have to learn."