Super League launch
The likes of Sam Tomkins, Paul Wellens and Gareth Ellis have their say at the launch of Super League.
Last Updated: 29/01/13 9:32am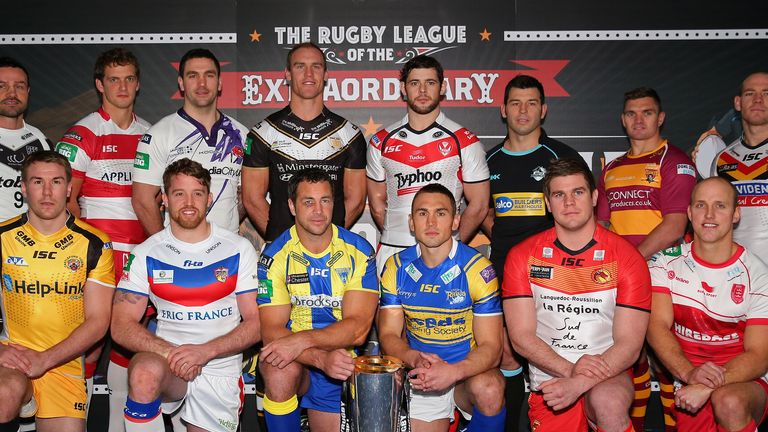 The likes of Sam Tomkins, Paul Wellens and Gareth Ellis have their say at the launch of Super League XVII.
The road to Old Trafford starts on Friday as 14 clubs fight it out for Grand Final glory - and with the World Cup being held in England in October, it promises to be the best rugby league season ever.
We caught up with some of the stars of Super League to get their views on the coming season.
Paul Wellens on St Helens
"We were disappointed with the way last season finished and obviously not winning anything. It is not where we want to be but there is a renewed optimism in the camp and we are looking forward to 2013. Nathan Brown coming in has given everyone a lift and we are looking forward to the year ahead. He has had a very positive impact and we are very much focussed on what is ahead of us. We have trained very hard in pre-season and Nathan has brought in a few ideas that he wants us to work on. Hopefully come the weekend when the season starts we shall show some improvements."
Sam Tomkins on Wigan
"When we run out on the field on Friday we are pretty much a new look team. There are new faces throughout the camp especially in the halves - we have Blake Green and Matty Smith, two lads who have not played together before. It is exciting for us because we have some young lads coming through. We have lost some experience but a lot of our youngsters have gained experience in recent years and everyone is going to have to step up a little more this year."
Wigan full-back Sam Tomkins backing new-look side for glory
Kevin Sinfield on Leeds
"We have not planned to finish fifth in any of the two previous seasons - we would have loved to have finished in first place but we have not been good enough throughout the year. This year there is a realisation that we need to start a lot better and be a lot more consistent. That is a big target of ours and a start against Hull on Friday is now a bigger ask."
Kevin Sinfields exclusive chat with skysports.com
England coach Steve McNamara
"I am extremely excited about the quality and the professionalism of the players. They are in the hands of the coaches now and I want to wish all the coaches the best of luck for the season. Hopefully they will tear into each other, make it the best competition that they can but hand them over in good condition in October ready to win a World Cup. The best way to prepare is to play tough and hard against each other and that is what we need in Super League to give England the best chance of improving."
Gareth Ellis on Hull
"Hull are a club showing a lot of ambition and a lot of excitement. For where I am in my career I think it is a great challenge to be part of that. I am really looking forward to helping take the club to bigger and better things. We have assembled a great squad - we have not been together too long so it may take a bit of time to gel and get those combinations going, but we have got the talent and are hoping to be up there with the best of them. Hull is seen as this huge club which has had limited success over the years, now with all the buzz and excitement everyone is waiting for something to happen - we are no different, we have bought into that as a group of players. But talk is talk, no it is time for us to get out on the pitch and perform."
Adrian Morley on Warrington
"I have never been involved with a club who have not signed anyone new but we don't have to get used to playing with new players and them getting used to playing with us. Everyone knows everyone else and we did okay last year so hopefully with the same squad we will be doing likewise. We will have to wait and see."
Michael Dobson on Hull Kingston Rovers
"We have a lot of hard work between now and the end of the year. We will concentrate on being consistent and if that brings us a play-off, hopefully it does but we will wait and see. Our opening game is tough against Catalan Dragons - they beat us three times last year and it won't be easy this year because they have a great squad. We will be at home though and confident that if we play our best we can get a win."