Barrie takes on Terry!
Barrie McDermott and Terry O'Connor go head-to-head with their Super League predictions...
Last Updated: 01/02/13 5:24pm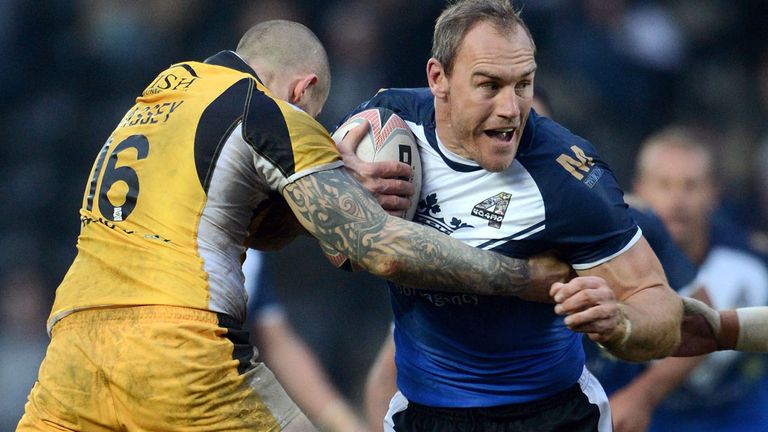 On the pitch Barrie McDermott and Terry O'Connor liked nothing better than tearing into the opposition. They may have hung up their boots but that competitive streak still runs strong and we have found a way to channel their energies...
Each week they will preview the live Super League games and give their predictions for the rest of action - and we'll keep track of who's called the most matches right!
Don't forget that you can follow all the action from the first weekend of Super League XVIII on Sky Sports.
Leeds v Hull
7pm, Fri, Sky Sports 1 HD
Barrie: "This is a great game to kick the season off with and I cannot wait. Terry and I have been chomping at the bit for the season to start again.
Obviously the big story here is Hull's new signing Gareth Ellis coming back into Super League. He is a world class player and left Leeds to go and join West Tigers. He has talked this week about how Leeds skipper Kevin Sinfield was a big influence on his style of play so to see them come up against each other is going to be pretty special."
Terry: "You are right Barrie, it will be special and there is a lot of pressure on Ellis to perform. However he will definitely bring something extra to this Hull outfit. They have lost Willie Manu which is a huge loss to them but Peter Gentle has brought in some other names like Shannon McDonnell and Ben Galea. You look at the squad they had last year and they still managed to win nine of their first twelve games - they were brilliant. Injuries took a huge toll on them though. This year they have strengthened up their squad and should be in fine nick! However Leeds are in pretty good nick themselves with Kevin Sinfield - the best player in the world pulling the strings once again. Add to that you have Jamie Peacock, Danny McGuire and Rob Burrow. Another player I am really looking forward to seeing playing for Leeds is Joel Moon. I think he will add an awful lot and will be the dangerous centre that they have been looking for since they lost Keith Senior.
Barrie: "We seem to be agreeing an awful lot about this game Terry! Leeds have a few debutants in this game - Zak Hardaker is a big threat with ball in hand and extremely dangerous from fullback. Joe Vickery is another player to look out for - he paid for his own airfare and came to ask for a trial. Because of Ben Jones-Bishop being out for six months, Vickery has got an opportunity here. From the two friendlies I have watched, he looks very good. Then Mitch Achurch will be another debutant for the Rhinos - he is a big rangy, tall player who loves to go over the top of the tackle and make the ball available. Those three will give Leeds something they have not had for a while and we will see a different type of Leeds that will play against Hull this year. Hull got humiliated by their city rivals Hull KR in a recent game so for me the form is definitely with the Rhinos."
Terry: "Hull have a great coach and a great assistant coach in Lee Radford. There is some talent that plays there. I want Hull FC to do well, the last few years they have started very well and then fallen off, but if Gentle can keep his team fit then they will cause problems and I am sure they can push for a top four finish."
BARRIE PREDICTS: Leeds by 10 points
TERRY PREDICTS: Hull by 10 points
St Helens v Huddersfield
4.30pm, Sat, Sky Sports 1 HD
Terry: "The interesting thing in this game is that new Saints coach Nathan Brown will be taking on his former club Huddersfield. He will know all the strengths and weaknesses of those players and will obviously use that to his advantage. The St Helens players have said that Brown has added so much to their training and is putting pressure on them to perform. If they do not do certain things during a game then he won't pick them - we are talking about world class players here. When Brown was at Huddersfield he turned them around defensively and he has the ability to make average players step up their game and play out of their skin. At St Helens he has world class players and if he can instill that discipline, confidence and self-belief then I think Saints will be the team to beat this year."
Barrie: "Yes, there are lot of little subplots going on in this game, I think that the continuity that Saints have got going in their squad will be their strength this year. Willie Manu and Jordan Turner will add an awful lot to this team, a lot of strike. I like Tony Puletua too, when you couple him and Willie Manu together, well, you can see that there is going to be a lot of off-loading, a lot of instinctive play where they try to catch teams on defence and retreat. That will be entertaining to watch. By their own admissions, Huddersfield are just not quite ready and it think this game is a little too soon for them."
Terry: "Huddersfield coach Paul Anderson has gone back to the real old way with four huge prop forwards, he wants to bully and intimidate teams. He still has Danny Brough who is one of those skillful players who can turn a game. I have watched them a few times in pre-season and I was not blown away by them. But Brough has said that they have structured their training bit different this year. He said that normally they start off well and fade away, this year they are looking to peak towards the back end of the season. Whether that is right or wrong I am not sure, but I think it is going to be a tough year for them."
TERRY PREDICTS: Saints by 20
BARRIE PREDICTS: Saints by 12
Salford v Wigan
BARRIE PREDICTS:Wigan to get off to a great start and win by 22 points.
TERRY PREDICTS: The Warriors will get off to a better start than that - I'll back them to win by 28 points!
Hull KR v Catalan
BARRIE PREDICTS:Catalan Dragons by eight points.
TERRY PREDICTS: This a tough one to call but playing at home and kicking of their season - I am going for KR to win by 10.
London Broncos v Widnes
TERRY PREDICTS: I am going for Widnes. They look confident and have two of the biggest signings in their history with Kevin Brown and Gareth Hock - neither will be playing in this game but it is a confident squad.
BARRIE PREDICTS: I will go for London to win - just to go against Terry!
Bradford v Wakefield
TERRY PREDICTS:Nobody expected both of these sides to do as well as they did last year. Bradford played outstandingly well week in week out and they didn't know if they would get paid at the end of the month. Wakefield built a new side from more or less scratch and made the top 8, best win was against Leeds at home but this game may be a tough one for them. Bradford at home new owner, new coach and a new season. Bradford by 10.
BARRIE PREDICTS: Bradford to win by 12 I watched them on Boxing Day and was impressed with Kearney and Sammut at half back behind a good pack they do well.
Warrington v Castleford
TERRY PREDICTS: I think it is going to be Warrington. They have not brought in any players, that is how confident Tony Smith is with his squad. A win by 18 points!
BARRIE PREDICTS: Warrington to have a good convincing victory by 22 points.