Off with a bang
Barrie McDermott looks at the winners and losers after a superb opening weekend of Super League XVIII.
Last Updated: 04/02/13 12:51pm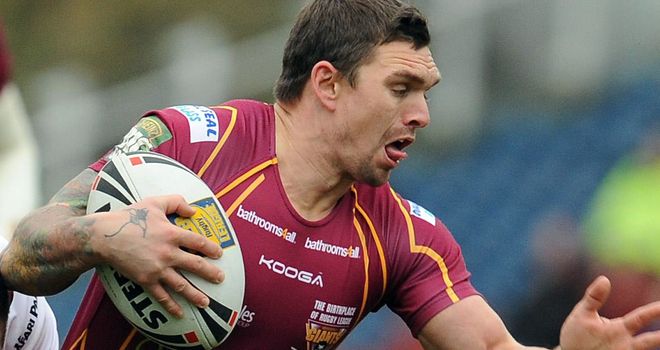 Reigning champions Leeds kicked of Super League XVIII with an impressive display against Hull FC - who were robbed of the services of Gareth Ellis just before kick-off.
Wigan also showed their credentials with an impressive victory over Salford, while Warrington showed why they are the bookies favourites with a 40-24 win over Castleford and Huddersfield caused the biggest surprise of the weekend by wallopping St Helens 40-4, silencing a stunned Langtree Park.
Barrie McDermott popped into Sky Sports News to give his views after Round 1 of the new Super League season...
Leeds 36-6 Hull
Barrie says: "It was a sensational way to start Super League XVIII - there were some tremendous tries scored. The holy trinity of Rob Burrows, Danny McGuire and Kevin Sinfield all played well. There was also a try from prop forward Jamie Peacock - a prop's try should always be double points in my book! I think for Leeds who have the World Club challenge against Melbourne in February they need to be in good form and hitting them with their very best. The marathon that is Super League started off with a bit of a sprint for the Rhinos. Gareth Ellis is a world class player and it was a big loss for Hull to lose him the way they did. He had a foot injury that left him out of the West Tigers side for three months. He still has a pin and a plate in that foot however there is no suspicion that the injury he sustained during the warm-up on Friday is related to that. Unfortunately he is going to have to wait a bit to make his debut for Hull FC."
Salford 0-42 Wigan
Barrie says: "The biggest question mark surrounding Wigan was the half back combination. Brett Finch and Thomas Leuluai left last season and their replacements had big shoes to fill. However on this evidence it does not look like they are suffering too much - Matty Smith and Blake Green filling those shoes very well. We also watched and admired Sam Tomkins - for me he is one of the best rugby players in the world. He can do anything with the ball in his hands. His opponents are so worried what he may do, they don't pay attention to what he does do. He is pivotal for Wigan and will be crucial for their chances this season."
St Helens 4-40 Huddersfield
Barrie says: "I believe that Nathan Brown is the right man at St Helens and I believe that the people of Saints will think that too. He was at Huddersfield and when he first went there he revolutionised and changed that club to bigger and better things. It won't be the first time that Huddersfield have gone to a big opponents like St Helens - they did it last year against Wigan. It was a fantastic performance. Huddersfield played with the power that their coach Paul Anderson used to play with during his career at Bradford and St Helens."
Warrington 40-24 Castleford
Barrie says: "Wolves deserve to be the bookies favourites - they got all the way to the Grand Final last year but just could not get over Leeds. But they are a fantastic side, very skilful, very quick and are lethal from distance and from short range too. I think Warrington will be confident that they can take it and match it with anyone. Castleford were 28-0 down in just over 30 minutes, but they did show character to come back, they did not give in and chipped in with a couple of tries themselves late on. Castleford coach Ian Millward will be realistic about his side and no that going to the Halliwell Jones Stadium is a tough task and they will take something out of coming back a bit when they were dead and buried."
Hull KR 24-32 Catalans
Barrie says: "Humberside is a tough place to go - especially early on. Catalans arrived with a lot of question marks surrounding them. Scott Dureau did not make this game and many see him as their key player, but they performed very well. For Catalans to do well they have to do well on the road and did exactly that. Steve Menzies at the tender age of 39 showed everyone in Super League how to do it."
Bradford 46-6 Wakefield
Barrie says: "There is a new staff and a new attitude at Bradford and definitely a new vigour as to how they play. I was really impressed with the speed and how they went away their job. Jarrod Sammut and Brett Kearney are a new half back partnership- - they have been at the club for a number of years though. I just thought there were some nice classy touches from the Bulls. It is good news for the Bradford fans who had a torrid time last year with everything that went on."
London Broncos 14-28 Widnes
Barrie says: "Last season Widnes only managed to get one victory on the road. This year they have done that on the opening game of the season! They went into this without their two major signings - Kevin Brown and big Gareth Hock who has come across from Wigan, but Widnes were tremendous. London Broncos will be disappointed, they would have looked at this game and aimed to get the victory at home. It is unfortunately back to the drawing board for Tony Rea and his players. The London club has been a bit of a nomad but for me Tony represents the history and heritage of the game, and I think he can talk to the Antipodean players who come in and tell them what it is like to play for the Broncos. It is going to be a long hard season but there is definitely room for improvement for the Broncos."