Barrie takes on Terry!
Barrie McDermott and Terry O'Connor go head-to-head with their Super League predictions...
Last Updated: 08/02/13 11:57am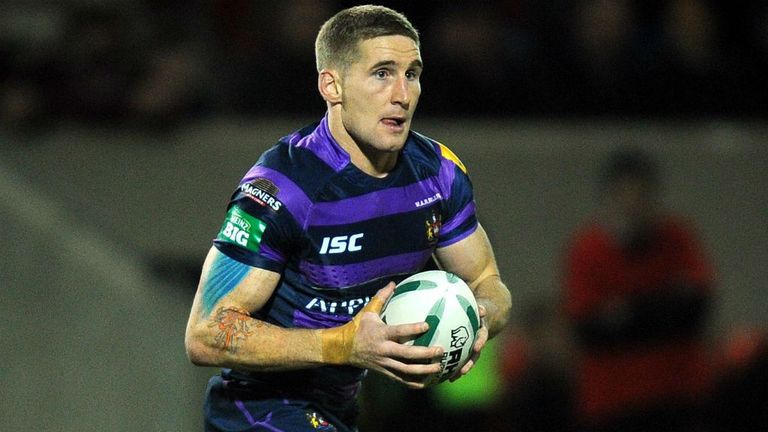 On the pitch Barrie McDermott and Terry O'Connor liked nothing better than tearing into the opposition. They may have hung up their boots but that competitive streak still runs strong and we have found a way to channel their energies...
Each week they will preview the live Super League games and give their predictions for the rest of action - and we'll keep track of who's called the most matches right!
After a fantastic opening weekend of Super League action Barrie and Terry are all square. Barrie got off to a flyer by backing Leeds after Terry decided to go for Hull to spring a surprise. However, his backing of Widnes against London paid dividends and helped to get him back on track.
Scores after Round 1
Barrie: 6
Terry: 6
One point for a win. If both have backed a winner then there is a bonus point for closest margin.
Don't forget that you can follow all the action from the second weekend of Super League XVIII on Sky Sports.
Wigan v Warrington
8pm, Fri, Sky Sports 2 HD
Barrie:"This game has become a bit of a derby game and in recent years Warrington have taken the spoils. Both sides had cracking starts to Super League XVIII which sets this game up very nicely. Sam Tomkins is Wigan's talisman and everything he does just seems to work. He scored three tries in their 42-0 demolition of Salford but in last year's fixture against Warrington, the Wolves tackled him to a standstill and never let him get into full flow. For Warrington, I think Ryan Atkins has just as much strike power coming off the left wing for the Wolves than Tomkins has coming from the back. Wigan restricted their opponents to zero and because they are at home, I think it is going to go in their favour. It will be very close though."
Terry: "I think this will be the best game of the season so far - I know it's only the second round, but what a game! Wigan showed that there is life without the likes of Brett Finch and Thomas Leuluai. Matty Smith and Blake Green played very well and really gave Sam Tomkins some quality ball. To not concede a try shows just how focussed Wigan were. There are rumours that Wigan may have lost Paul Prescott. If he is out then young Greg Burke will come in, look out for him, he is a man mountain. Warrington for me are the entertainers of Super League, they have so many good experienced players who know what they have to do. They start really strong and just keep on the pressure. What I like about them is the willingness to throw the ball around and play at every opportunity. This game could go either way, both are physical and start very well, but because of the way they started last week I am going for Warrington. I think they are the more settled side."
BARRIE PREDICTS: Wigan by 6 points TERRY PREDICTS: Warrington by 6 points
Wakefield v Hull KR
5.30pm, Sat, Sky Sports 1 HD
Terry: "It took Wakefield 60 minutes to score the first try against Bradford last week, which was not ideal. They conceded 40 points and will be disappointed with that. However, Justin Poore and Paul Aiton are their main men. If you keep them fit then they should trouble sides. Hull KR are a talented side but conceded 26 points before they started to play. They were soft tries that they conceded too - they really need to tighten up their defence. You have two sides here who will want the first win of the season. Because of the way Hull KR came back at the end against Catalans I do fancy them to get the win
Barrie: "I'm not so sure about that Terry. Wakefield were humiliated by Bradford and I read Richard Agar's post-match analysis where he said he was fuming and he laid the blame at the forwards' feet. I thought that was a bit harsh after the first game of the season but Agar will be looking for a response to that this weekend. Hull KR will also be disappointed by their loss to Catalans. They talked a lot about what they did with the ball - not really about how much possession they had but what they actually did with it. I am sure they would have looked long and hard at that and would have sorted it out. In response to what happened last week, I think Wakefield will bounce back at home. TERRY PREDICTS: Hull KR 12
BARRIE PREDICTS: Wakefield by 8.
Castleford v Leeds
BARRIE PREDICTS:"Leeds were very good last week and Kevin Sinfield was superb. The three debutants had mixed fortunes. Joe Vickery looks like he has done some damage to his foot which may keep him out for some time. Joel Moon looked very threatening on that left edge with Ryan Hall - Hall should have a lot of joy playing outside Moon. Zac Hardaker is also settling nicely into his role. It will be a hotly-contested derby - Castleford did okay in the second half last weekend but could not handle Warrington's quick start where they scored 28 points in 23 minutes. As fiercely as I expect Castleford to fight, I expect Leeds to score plenty of points. Leeds by 26 points."
TERRY PREDICTS: "These derby games are always tough to call. Leeds kicked of the season very well though and you know who they have coming over in a couple of weeks. There are jerseys up for grabs for that World Club challenge against Melbourne. So Leeds players will be on top form. There are a lot of new players for Castleford coach Ian Millward to work with, which always takes a bit of time. I feel it may be another loss for them. I think Leeds will be too big, too strong and too skilful. Leeds by 10 points."
Hull v Bradford
BARRIE PREDICTS:"Hull's start was dreadful. Seeing Gareth Ellis leave the pitch in the warm-up was a crying shame for them and he will add a lot to them when he eventually gets back on the pitch. The Bulls were superb and Jarrod Sammut was very good and looked a threat every time he got the ball. I am expecting this game to go in favour of the visiting side but I expect it to be a close game though. Bradford by six."
TERRY PREDICTS:"Until Hull can sort out who the bus driver is I can't see them winning. By bus driver I mean who is going to get them around the pitch. I was disappointed with them against Leeds. The halfbacks Brett Seymour and Daniel Holdsworth had no direction and they are both good players. They need to tell the forwards where to go and what to do! Bradford were really good and I loved the way Sammut played too. I fancy them to win - it's a big call for me because I have backed Hull quite a bit. Bradford by 10."
Catalans v Salford
BARRIE PREDICTS: "I was very impressed with Catalans last week. Steve Menzies is a phenomenon - to play the way he did and score a couple of tries at the age of 39 in just incredible. He is a shining light for us all. All the big men for Catalans were prominent last weekend against Hull KR. At home they are difficult to beat. Salford have got their financial future sorted and can start laying down some foundations. It is going to take three or four months for them though. I expect Catalans to put in a big performance and get a big win. Catalans by 20 points."
TERRY PREDICTS: "Menzies certainly showed us the way Barrie - he is playing better than most 20 year olds! Then you have Jamal Fakir coming off the bench! They have lost some players but the others have taken up the responsibility. They are playing a Salford side who you could not fault their effort in the first half last week. But effort does not get you points and they just lack that creative spark for me. It will come but I am not sure it will come in the South of France. Catalans by 24 points."
Widnes v St Helens
TERRY PREDICTS:"Everyone will give you a thousand reason why Widnes will not win this game - Saints will be determined to bounce back after that drubbing where they looked really poor. They had no answers! Someone who is very close to the St Helens camp told me that it is very quiet there and they are really focussed on this game. Everyone is waiting for a reaction from Saints, to throw a hiding out. However Gareth Hock should be making his debut for Widnes, for me he is the biggest signing in Super League. He is playing against a team that he was brought up to hate. Saints have always been the enemy. I can see him getting back to enjoying his rugby and I fully expect them to be up for this challenge! I am going to go all out and say Widnes to win - I know I'm mad but I think Widnes will ambush them. Widnes by 8 points."
BARRIE PREDICTS: Widnes played really well against London - I got it wrong last week. But Widnes were great. They entertain Saints who were absolutely annihilated by Huddersfield. I don't think I have ever seen a Saints pack being so badly dominated as they were. Unfortunately for the Vikings they are going to face a very determined Saints side. I think Saints will win but perhaps not as well as some may think. St Helens by 2 points."
Huddersfield v London Broncos
BARRIE PREDICTS:"I am really impressed with what Paul Anderson has done with the Giants. They are very strong and very powerful. After winning the last three games of last season I thought London would have a bit more bite, but they will be very disappointed with that loss to Widnes. I just cannot see them handling the size and strength of the Giants. A home victory for Huddersfield by 26 points."
TERRY PREDICTS: I can only see one winner here! Danny Brough said that Huddersfield were going to ease into the season. Well, if that was easing into the season then I would not like to see them when they are at full pelt. They were so destructive. London have a few injuries which weaken Tony Rea's options. I really cannot see them troubling Huddersfield too much. Giants by 20 points."