Terry O'Connor says that Saints win over Warrington could be the turning point for them and has high praise for Danny Brough.
Terry O'Connor has high praise for Danny Brough as Huddersfield get back to winning ways
Last Updated: 11/03/13 5:39pm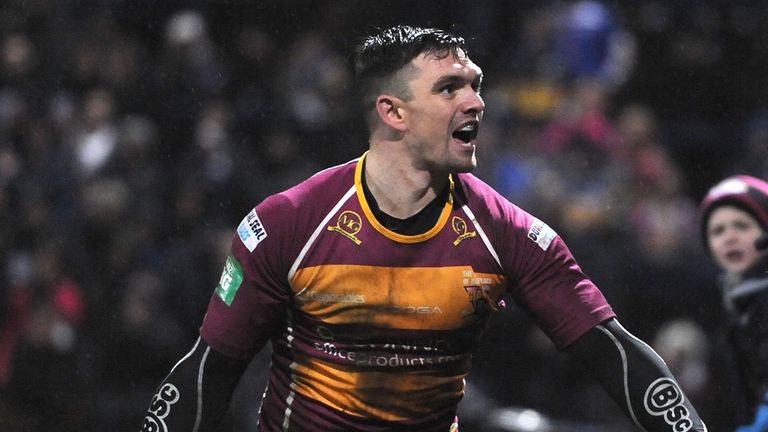 Terry O'Connor spoke to Sky Sports news about the winners and losers from the weekend.
Leeds 8-32 Huddersfield
Terry O'Connor: "Paul Anderson labelled his side embarrassing last weekend so they came out with something to prove. Danny Brough is such an intelligent player, he was left out of the England squad earlier in the week and came out with something to prove - he was firing on all cylinders. Every time he touches the ball something seems to happen. There was nothing in this game at half-time but in the second half the Giants came out and led by that man Danny Brough turned up the intensity. It was a big performance from Huddersfield."
Hull 52-0 Castleford
Terry O'Connor: "This was absolutely outstanding from Hull. We have waited for a performance like this from Hull FC since the start of the season. They were very disappointing when they lost against Widnes last week but this week you could see the desire and the determination. Sometimes when you have adversity during the week - like Hull had with Brett Seymour's car accident - something really rallies the troops. They were very clinical. Their defence was outstanding too. You are always going to get passion in these games Danny Tickle and Weller Hauraki really took it to the extreme - there was a little push and a shove and not much in it but then it just took off and it seemed that you had 26 men coming in and having a go. It was a real ferocious game, I am not condoning that sort of play and I am sure we will be hearing more about that."
Wigan 38-0 Catalans
Terry O'Connor: "It was an inspiring performance from Wigan led by Pat Richards - his 95metre effort was his 150th try for the club! He is such an intelligent player, we talk about the halfbacks having to be intelligent but your wingers need to be on the ball too. He always comes up with the goods and has been a very good signing for the club."
Widnes 22-22 Bradford
Terry O' Connor: "Widnes were 20 -4 down at half time and fought back - this from the team who were the whipping boys last season . They have learnt from their mistakes. They had Gareth hock sent off on 25 minutes so they have to play against a very confident Bradford side for 55 minutes with just 12 men. I am not sure what was said to get him sent off but I think it inspired the rest of his team and they came up with an amazing fight back."
Warrington 10-22 St Helens
Terry O' Connor:"Everybody has been waiting to see St Helens click - they have had two bad performances but they came up with some exceptional plays against Warrington. It was probably the poorest twenty minutes I have seen from a Warrington side but that was not helped by what St Helens did. They got off the line and put Warrington under intense pressure. The Wolves made far too many errors and Saints made the most of them. I thought in this game St Helens showed their real quality and were excellent in defence and in attack."
London 22-42 Hull KR
Terry O' Connor: "Alex Brown got a hat trick for Hull KR which is not bad at all - he has been playing in the Championship - he is not even a full-time professional player. But he has been given a chance and is repaying Craig Sandercock for giving him the chance.l he still has plenty to learn though. It is difficult for the Broncos - on paper they are a very good side but they are not playing with much confidence."