Sky Sports reaction to Wakefield Trinity Wildcat's crushing win over Salford City Reds
Terry O'Connor and Stevo lay into Salford City Reds after their 46-10 loss to the Wildcats.
Last Updated: 11/06/13 9:48am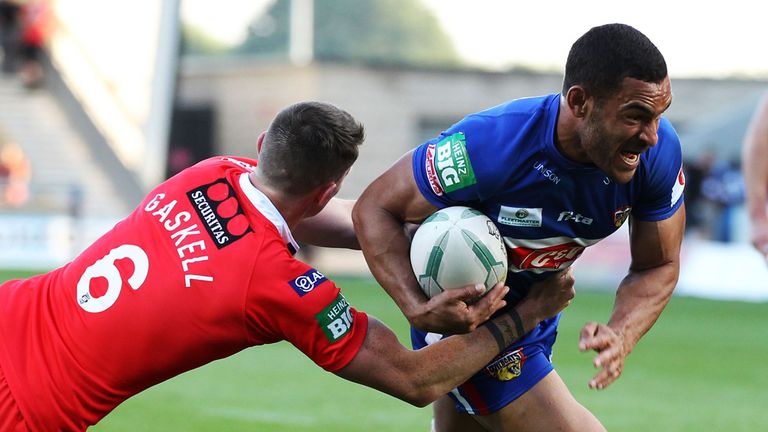 Wakefield ran in eight tries as they broke their four-game losing run and preserved their hopes of reaching the play-offs, while the result left the Reds in trouble at the bottom.
Paul Aiton and Dean Collis were among the scorers for Wakefield while Danny Kirmond, Richie Mathers, Paul Sykes, Oliver Wilkes, Ben Cockayne and Peter Fox all helped themselves to tries in the mauling.
Brian Noble's side were 30-4 down by half time at the Salford City Stadium and O'Connor criticised them, especially the forwards, for a lack of effort and pride.
"It comes down to attitude," O'Connor told Sky Sports. "You know that you are going to get belted but at the end of the day even if you are not going to get a contract here next year, it is personal pride.
"You don't want someone standing over the top of you, who has knocked you on your backside and really taught you a lesson in front of the Sky cameras. You don't want that.
"Brian Noble was furious at half time and he had every right to be furious. Even if they came out second half and only conceded 16 points it was still not good enough.
"When your job as a forward is to take the ball and run at the opposition as hard as you can, you have got to do that time after time after time. No matter how many times you keep getting smashed. That is your job and today I don't think that was on the agenda of some of the forwards."
Influential
Fellow Sky Sports pundit Stevo praised the performance of Wakefield's Tim Smith, who was an influential figure throughout.
He said: "We know that Tim Smith can push the team around the park; they certainly missed him last week. He is a key figure. But what you look at is what we call basic rugby league football. That is where your forwards take control. Terry is absolutely spot on.
"You get the likes of Danny Kirmond and of course Kyle Amor when he came off the bench - absolutely superb. You have got to have a leader. You have got to have that leadership going.
"If you get over the advantage you can have a kicking game like Tim Smith has and you can just keep turning them around. You could see the Salford Reds' heads were going down every time Tim Smith, after the forwards had put in the hard work, kicked into the corner. They were thinking, 'we want this game to finish'.
"It was a very, very poor display by the Salford side. Richard Agar has to think to himself: 'were we all that good or were Salford that poor?'. Twenty-six missed tackles by the home side is nothing to shout about. You can tell from the interview with Brian Noble that he is far from impressed."