Super League review: Terry O'Connor praises Castleford's Rangi Chase
Terry O'Connor praises Castleford's ace Rangi Chase in his review of Super League round 19.
Last Updated: 24/06/13 1:11pm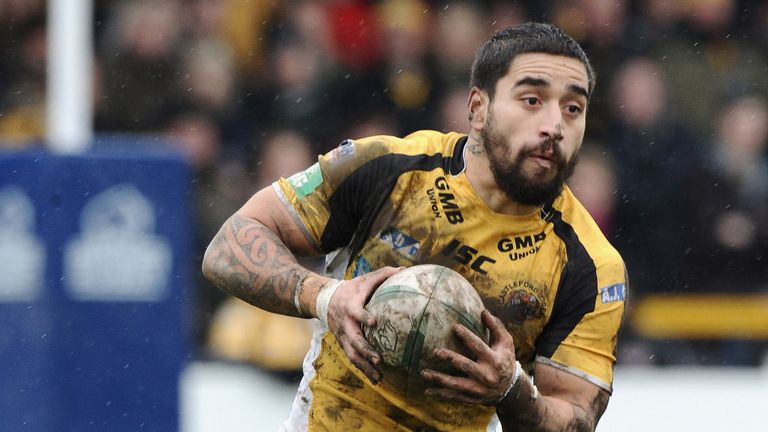 Castleford 30-28 Hull
Going into the game I was a bit concerned for Castleford because they had Weller Hauraki, who is normally a back row, playing in the stand off position. But Rangi Chase was alongside him and every time Chase gets the ball something seems to happen. He's an amazing talent. He made 32 carries and gained 140m in the game. As well as his kicking game his passing game is second to none as well. He oozes that class that not many players have within the sport of rugby league. He's a cocky little player as well but that's what you want from your half-backs.
Hull, meanwhile, made a number of mistakes and Peter Gentle said after the game his middle unit men were quite poor. They outscored Castleford but the four missed conversions by Daniel Holdsworth were missed opportunities. Some of them he normally knocks over for fun but the game is about inches. You don't usually see Hull FC making as many mistakes as they did on Friday but they could still have won if Ben Crooks, who scored four tries, had run the ball himself instead of passing to Tom Lineham in the final seconds. Castleford deserved their victory, though.
Salford 10-52 St Helens
Salford seemed to have lapses in concentration and there were two seven-minute spells where they conceded a total of seven tries and in the last three games they've conceded 166 points. St Helens, meanwhile, have their star players in Jonny Lomax, James Roby, Gareth O'Brien and Jon Wilkin playing and playing well. You only have to look at the ruck speed, the amount of times they look to play with width in this match. In the last five games they've managed to get three wins and had two defeats by Warrington and Huddersfield, which is not really an embarrassment because they're two of the best sides in the competition.
Catalan 21-22 Hull KR
We always talk about Michael Dobson and what he brings to the party but look at Greg Eden's try in this match - he is certainly coming into form at the right time. The ball goes behind Hull KR's try line, he picks it up and all the Catalan players seem to stop. There was no one really chasing and putting pressure on Eden other than Frederic Vaccari and if he had taken one more step before trying to tackle Eden he'd probably have come up with the play. But Eden made 300m, four breaks and scored a brilliant try. It's all about playing to the whistle and that's what Eden did - Catalan switched off.
Huddersfield 40-18 Leeds
It wasn't a surprise to many people - people are saying the Rhinos are missing too many star players. Without Danny McGuire, Kallum Watkins, Kevin Sinfield and Kylie Leuluai it was always going to be very difficult against a team in second place. They also lost Jamie Jones-Buchanan and he looks like he could be missing against Widnes next week.
Giants' pair Brett Ferres and Leroy Cudjoe both played for England against the Exiles last week but two players who had a big influence but didn't get picked to play for England were Danny Brough and Shaun Lunt. Lunt played at the Rhinos last year and he's in amazing form at the moment; he's scored 18 tries this year. He looks like a very confident player and a player with real appetite for work.
Bradford 28-32 Widnes
Dennis Betts will talk about Widnes and the way they end games - they end games very spectacularly! Patrick Ah Van, who used to play for Bradford, scored the last two tries in quick succession. Widnes have been involved in six games this year where they've lost by six points or less, though. So to go to Bradford, being under the pump in the last few minutes of the game and come away with the victory will, I'm sure, please the players and Dennis Betts.
Wakefield 46-14 London
Jamie Soward is a very good signing for the Broncos. They've obviously lost their marquee player in Craig Gower but they brought Soward in to fill that role and hopefully he'll have a big influence. They're still in the Challenge Cup so they've still got a chance of getting to that final and Soward's arrival is a sign of intent from the coach Tony Rea. They need that player to guide them round the park and he could be that man.
But getting beaten by so much shows you it was a one-sided contest on Sunday. If you play at Wakefield it's always going to be difficult and they had too much fire power for London. The shining light for the Broncos is Kieran Dixon on the wing. The Broncos have been fighting very hard but just not coming up with the victories, but there were a lot of positives for Richard Agar and Wakefield, going into the final seven games.