NRL: All four Burgess brothers set to line-up together for South Sydney Rabbitohs
All four Burgess brothers could be set to line-up together for the Rabbitohs in the coming months.
By Sam Drury
Last Updated: 02/07/13 12:48pm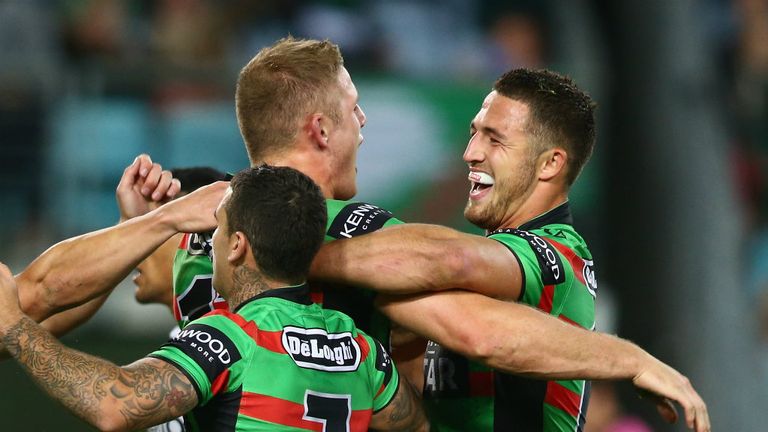 In Australia though, those duos look set to be eclipsed as the Burgess brothers - all four of them - could be set to line-up together for South Sydney in the coming months in the National Rugby League.
The move down under has been a gradual one for the Burgess boys, born and bred in Yorkshire.
Sam, 24, was the first of the Burgess clan to make the move to the southern hemisphere when he joined the Souths from Bradford Bulls in 2010.
Older brother Luke, 26, joined him the following year before twins George and Tom, 21, arrived in 2012 and 2013, respectively.
The Rabbitohs have now named three of the four (Sam, George and Tom) in their squad for Sunday's game at Perth and, with eldest brother Luke making his return from injury for feeder club North Sydney, the prospect all four brothers being on the field at the same time is looking increasingly likely.
World Cup
Indeed, there is even the possibility that the quartet will make the England squad for the Rugby League World Cup this autumn.
Sam and George seem all but assured of their places in Steve McNamara's squad having taken the NRL by storm and the England boss is not ruling out naming all of the Wakefield-born brothers for the tournament.
"It is a possibility," he told the Sydney Daily Telegraph. "You never say never.
"Tom is only just making his way and has played one or two games but, if he has the same rapid rise as his brother George and has an impact in the NRL, then he would give himself a chance.
"Luke has been out injured for most of the season but, if Souths go all the way to the grand final and all those players are in the team and making an impact, then they would give themselves every opportunity."
Perhaps surprisingly, should the siblings line-up together for the Rabbitohs, they would not become the first team to name four brothers in the same side.
Back in 1910, Ray, Roy, Rex and Bernard Norman played for Annandale in their 19-2 defeat to the Souths.
Perhaps one issue that could prevent the brothers' dream of appearing together and matching the Norman's achievement is a positional problem.
Whilst Sam has mainly played at lock for the Rabbitohs recently, all three of Luke, George and Tom play in the front row as props making it difficult to fit all three into the same team.
As it stands, however, that looks like being the only obstacle in the way of the Burgess brothers making history in the months to come.