Super League: Sky Sports' Terry O'Connor reviews the latest action
Terry O'Connor reflects on more shoulder barge controversy in Super League and a Cas thriller.
Last Updated: 05/08/13 1:48pm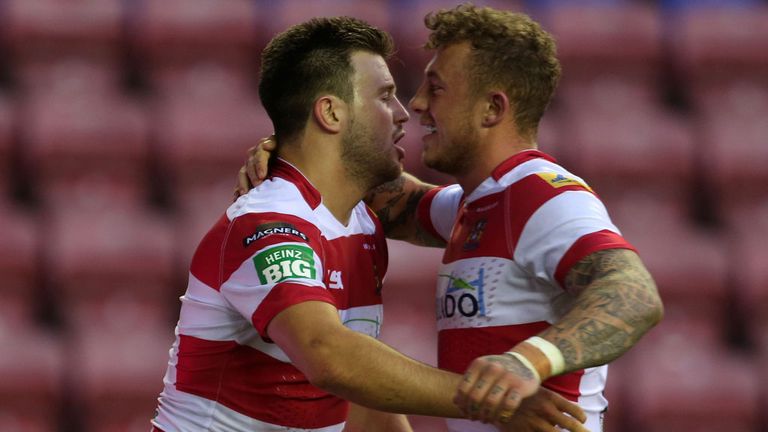 London 18-30 Leeds
TERRY SAYS: There was a sombre mood going into the game following the minute's silence for former Leeds coach Graham Murray, who was a very good coach. The players really respected him - he brought a toughness to the club. Kevin Sinfield said he was probably one of the biggest influences on his career. If you're looking for someone who started the roll at Leeds Rhinos, it was probably Graham Murray. It's a sad loss. London were embarrassing in the Challenge Cup last week; I expected them to come out in the semi-final against Wigan and perform but they didn't. They were much better against Leeds but on his 500th career appearance this was always going to be Kevin Sinfield's day. He's Mr Consistent, he's the ultimate professional - he lives his life well, both on and off the park. One of the reasons that Leeds Rhinos are great is because of that man.
Wigan 21-16 Hull KR
TERRY SAYS: There are things that go for you and things that go against you and if you are a Wigan fan you are going to think that the first of Josh Charnley's scores was a try; if you're a Hull KR fan you're going to think it's one that's gone away from you. Charnley goes in at the corner and the decision goes up to the video referee - and I can't understand why he's given it. It comes down to opinion at the end of the day but I feel that the ball was grounded in the end goal but on the white line. The corner flag is not in play, but if he hits the bottom of the corner flag that to me is no try. I was watching Josh Charnley when the try went upstairs and he wasn't so confident himself that the try would be given. If you hit the corner flag up in the air it doesn't matter but if you hit the bottom of the corner flag where the white line is, that should be no try.
Hull 72-10 Widnes
TERRY SAYS: When Kevin Brown was in the sin bin, Hull scored four tries, so it was very costly. After 25 minutes it was 10-10 but Hull scored soft tries through the middle. Denis Betts was absolutely fuming after the game and said he wouldn't come up with any excuses for what his team did because they simply weren't good enough. I spoke about London being embarrassing, well this Widnes display was embarrassing. In the first half they switched off for seven minutes and conceded three tries and in the 10-minute spell that Brown was off the park they conceded a further 20 points. You just can't do that against a good side like Hull who were playing on confidence after their win against Warrington.
Catalan Dragons 6-26 St Helens
TERRY SAYS: Gareth O'Brien is one of those players who goes at the line but he was stopped by a dead-set shoulder charge by Zeb Taia. The shoulder charge has been outlawed midway through the season so the players are getting used to it. Taia has not made contact with his head but the whiplash that O'Brien suffers after he's passed the ball is terrible. The last time O'Brien played he got one of those against Wigan; he gets them because he goes at the line. He's had to be stretchered off in both games. He's running at the big men and trying to pull them out of the line to create gaps for some of his team-mates. I'm sure we'll be hearing more about that Zeb Taia incident!
Huddersfield 46-4 Salford
TERRY SAYS: Next Friday's clash will definitely decide who wins the league leaders' shield - that is the game that everyone's been anticipating. They've been talking about August 9 - it's going to be live on Sky Sports. Danny Brough, along with Sean O'Loughlin, have been the best players this season. Jermaine McGillvary scored twice in the opening five minutes but Brough is the heartbeat because he never switches off. We thought that Huddersfield would have too much firepower for Salford but all credit to Salford because they didn't give up.
Castleford 30-40 Warrington
TERRY SAYS: After getting beaten by Hull FC in the Challenge Cup semi-final everyone was waiting for a response from Warrington. But Castleford's players got behind the ball numerous times and offered themselves to a team-mate; they had all of the momentum in the first half. Warrington couldn't get hold of the ball. It was 24-12 to Castleford at half-time but Warrington play for the full 80 minutes. The sheer brilliance and never-say-die attitude of some of the players was excellent; that was a brilliant game and a brilliant performance by Castleford.
Wakefield 24-26 Bradford
TERRY SAYS: Can either Wakefield or Bradford get into the top eight? It depends a lot on Hull FC, who are playing in the Challenge Cup final, so it will be interesting to see how they deal with that. If you look at Bradford's run-in they've got three games at home - against Catalans, London and Huddersfield - and one away, against Castleford whereas Wakefield's last four games are Warrington and Huddersfield (both away) and home to Castleford. It's going to be very interesting but it all comes down to whether Hull FC can hold onto that position. Bradford are a team playing with confidence at the minute despite all of the problems that are going on off the park; it's great that they can still turn up focused and ready to play and come up with a brilliant win like that.