Super League: Hull FC defence get plaudits after beating Catalan Dragons
Paul Cullen praised the defence of Hull FC after they repelled Catalan Dragons in their Super League play-off.
Last Updated: 14/09/13 2:15pm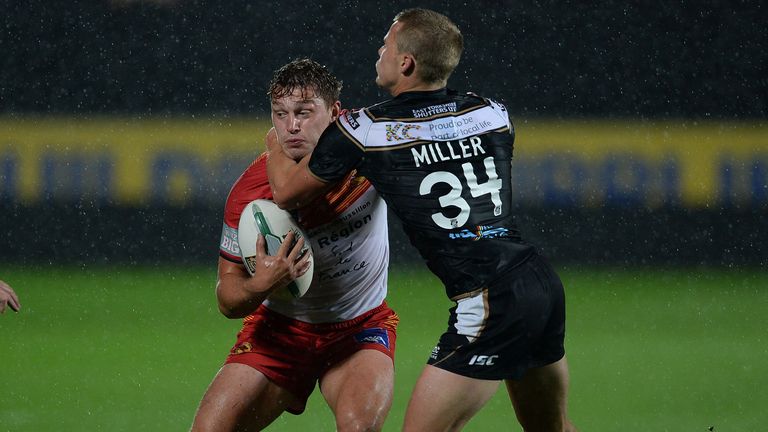 The hosts had a narrow lead throughout after Jamie Shaul's impressive first-half score, before Gareth Ellis sealed the win with an 80-metre solo effort late on.
But inbetween the Black and Whites were forced onto the back foot by the Dragons and only a strong defensive line - which amassed almost 400 tackles - kept the visitors at bay.
"I have to credit Hull FC," Cullen told Sky Sports. I don't think they'll need the tackle bags and shields out this week! They've done enough tonight.
"It's a very good and tough training session for them and all their defensive systems have been tested."
However, he suggested Catalans could have mixed their attack up a little more, rather than relying on their kicking approach.
"When you are working a defence one of the main aspects is identifying who the opposition go-to players are and what their big plays are," he explained.
"Well tonight that was only two for the Catalan Dragons in Thomas Bosc and Leon Pryce and it was a kick at the back end of a set and a pretty lame kick, to be fair. So in one aspect of kick defence Hull FC were absolutely fantastic because that's all the Catalans threw at them.
"Catalans needed to take more chances, score more points and more tries -but it didn't look like they were going to break down that Hull defence with that tactic and every time it failed Hull grew in confidence and the Dragons ebbed away."
Errors
Stevo, meanwhile, commended both sides for producing an excellent clash in torrential rain.
And the Sky Sports pundit suggested only two errors had cost Catalans in the tie.
"Catalans will look at the replay of this game and realise they only came up with two really big errors in defence," he said.
"One was where the chase wasn't good and Shaul made the length of the field try. It was a wonderful try but could have been and should have been stopped.
"And there was one lack of defence late on when Ellis finished the game off.
"For the conditions, though, I thought both sides played wonderful rugby league football."
Cullen agreed the visitors deserved credit and praised them for stepping up after their 14-12 loss to Warrington last week.
"Catalan have improved their completion rate, field position and kicking game out of sight [from last week]," he said.
"What they didn't improve was their execution on the kick and chase - and there was no knockout punch."