Super League play-offs: Wins for St Helens and Warrington analysed
Jon Wells praised St Helens' power and Wolves' defence as they progressed in the play-offs.
Last Updated: 15/09/13 5:57pm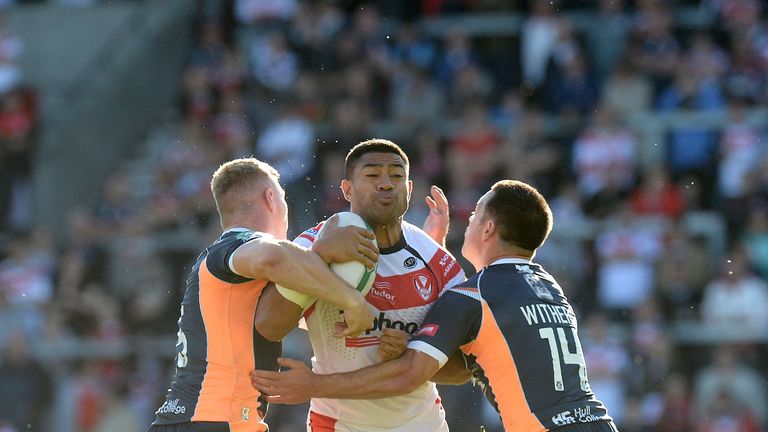 Saints saw off Hull KR 46-10 after Warrington had booked their place in the next round with a 40-20 defeat of Leeds.
Sky Sports expert Jon Wells was on hand to analyse the action.
St Helens 46-10 Hull KR
Saints got the job done but Hull KR thought they were in with the first score of the second half. It was chalked off because Kris Welham first attempted his catch on the inside of a front runner before ending up on the outside. Technically it was a correct decision from the video referee because the laws don't allow that. In reality, for me, it rewards poor defensive reads. The net result is that perhaps the rules need looking at because, although the video referee is interpreting what's in front of him correctly, that, for me, for all money, is a try.
Anyway, the Robins, heartened by that, despite the ruling, got into the to and fro of this game, until Louie McCarthy-Scarsbrook stamped on all chances of a comeback Hull KR may have harboured. Saints were well in front when Lance Hohaia crossed and Adam Swift secured his hat-trick.
The Saints go marching on with a convincing if not crushing victory for them. Hull KR will reflect on what's been a successful season for them because they made the play-offs. The big question for them is will Kris Keating be the replacement for Michael Dobson they're all hoping he will be.
Warrington 40-20 Leeds
It was a fantastic win and it was a win built around Warrington's defence. They really consolidated the momentum they gained in the first 40 minutes and their defensive line didn't panic, they do not sink, they just adjust and talk and snuff out the Leeds attack.
Then, at the other end there was some clever opportunistic play by Michael Monaghan to put Ben Westwood's third try on a plate for him and the game was ended as a contest before the hour mark.
Clever line running from the Wolves gave them good field position and now they can turn their focus to week two of the Super League play-offs.