Stevo says Warrington's win over Huddersfield shows they can win Grand Final
Stevo says Warrington can win the Grand Final after their impressive win against Huddersfield.
Last Updated: 28/09/13 5:11pm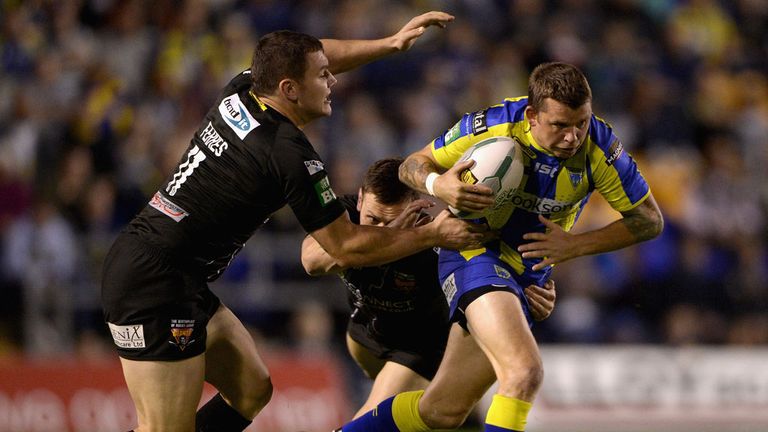 Warrington, who were beaten by Leeds in the Grand Final last season, held on to beat Huddersfield 30-22 to earn a place in Super Leagues showpiece.
The Wolves looked to have it all wrapped up as they took a 14-point lead early in the second half but had to dig deep to stop Huddersfield who never gave up.
Click here to read our match report
"Warrington always looked the better side and on the evidence of the way they played tonight, well this could be their year," said Stevo.
"If you have got a good set of forwards who are getting you over the advantage line then you can really start to dictate the game. The Warrington forwards did that far more than the Giants forwards did.
"But you also need someone to steer you around the park and that man was Lee Briers. When things were looking a little dicey late in the second half, Warrington coach Tony Smith knew that Briers would come up with something special - and he did, he got it absolutely spot on.
"It is a huge boost for any side to know that they have someone out there who can turn the game around. Briers stepped up and took control and they are on their way to Old Trafford."
Giants still stand tall
Stevo also said that Huddersfield will be disappointed that they did not make it to Old Trafford but can hold their heads up high.
"The Giants looked dead on their feet but came back hard - it was a wonderful effort from them. They can be very proud of themselves too - not only did they finish top of the table but they looked down and out but they came back and really made Warrington fight hard for that win. They can walk of the pitch feeling very proud indeed."
Warrington will play either Leeds or Wigan at Old Trafford and while Brett Hodgson should be fit for the Grand Final, Stevo cannot see Tony Smith changing a winning formula
"The goal kicking of the man who replaced Hodgson - Stefan Ratchford, was superb and I cannot see Tony Smith changing anything. And why should he? His team to a player were outstanding tonight."