Whatever happened to... Lee Jackson?
While England couldn't beat Australia in the Rugby League World Cup opener this year, they did achieve the feat in 1995. Here Sky Sports talks to one of the key members of that team, Lee Jackson...
By Rob Lancaster
Last Updated: 31/10/13 5:43pm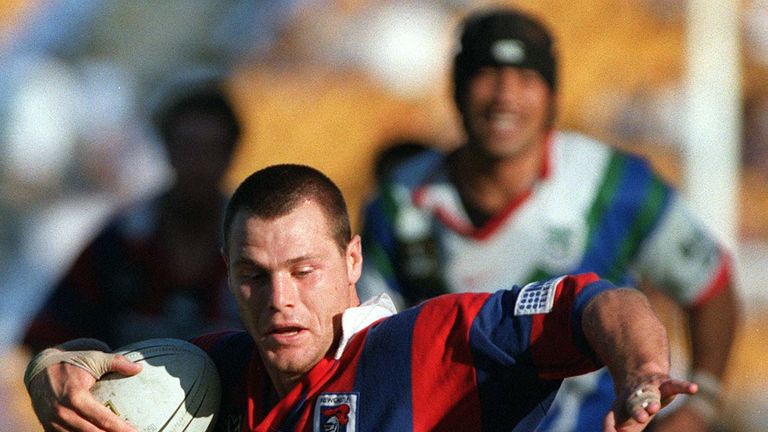 He was also a Great Britain and England international, helping the latter reach the 1995 World Cup final. England had actually defeated Australia in the tournament opener, only for the Kangaroos to get their revenge in the end.
So, with the competition back in Europe this year and England once again paired in the same group as their greatest rivals, Jackson seemed the perfect man to talk to for our 'Whatever happened to?' series.
Here, the man who was part of Hull's Premiership-winning team of 1991 talks about his career at the top, living and playing in Australia and finishing off in the lower divisions...
Sky Sports: Let's start at the beginning, Lee. Was rugby always the sport for you? And, if so, did you ever think as a youngster it would become a career?
Lee Jackson: I basically took up rugby because I was rubbish at football! I thought I'd give it (rugby) a go at my junior school, and it just went on from there. At the time I didn't (have any thoughts about making a career out of it), I just enjoyed playing. I got asked to go to the Hull Colts and the rest, as they say, is history.
SS: You helped your hometown club win the title in 1991, but were then sold for a record fee of £83,000 to Sheffield Eagles two years later. How did the move come about?
LJ: It was a lot of money at that time. I think it's still the record amount for a hooker. In truth, I didn't really want to go. It was just at the time the directors at Hull had lost their ambition for the club and basically I thought I was worth more than they were offering. I just got told that I wasn't having what I wanted, so I was going. I spent two years at Sheffield and I really enjoyed it there.
SS: From Sheffield to Newcastle via South Sydney. Tell us about your decision to move to Australia...
LJ: I did an off-season with South Sydney while I was at Sheffield, which gave me the taste then to play in Australia. I loved the competition and I loved the country, because by then I'd been there a few times. Fortunately for me, the Super League v ARL war came along. (Newcastle coach) Malcolm (Reilly) phoned me up and I went down there for three years.
It was a dream come true, though of course life was very different. It wasn't as if I'd joined Castleford and it was just around the corner. My wife and my two kids, who were young at the time, came with me, so it was a really big career and life choice. I'm glad I did it. I was under Malcolm, who had obviously chosen me for Great Britain previously.
SS: It sounds like you didn't really want to come home!
LJ: I couldn't get another contract at the time because by then the ARL and Super League had come together to form the NRL. I think six teams merged together and there were suddenly a lot of players on the market. A lot of them started to come over to England, too. I really wanted to stay because I'd really settled out there. I made some really good friends and what I should have done is asked for permanent residency when I got there. But you didn't think about that at the time.
SS: The mention of the formation of the NRL is crucial when considering the 1995 World Cup, as Australia left behind some big names due to the battle going on in their domestic game...
LJ: They were saying it was their second team, but even so they can have three or four teams and still be strong. Everything was a bit of a blur in that first match (which England won, 20-16). You go into camp and all you want to do is your best, and beat the Aussies of course. They were, and still are, the pinnacle of the sport. You just wanted to be in that chosen few that actually defeated them. The game at Wembley just came and went - it was just so quick. You got told to do certain things, then the next thing you knew it was full time and we had won.
SS: Did you think after that victory you would come up against the Kangaroos again in the tournament?
LJ: They were always going to play better as the competition went on and step it up for the final. In the end they only made it by a whisker, beating New Zealand in the semis only when the full-back missed a goal with just seconds to go. But we'd always set ourselves to face Australia in the final.
SS: And so it was a rematch of the opening fixture, and back at Wembley as well. This time, though, the Australians came out on top by a 16-8 scoreline...
LJ: We just didn't hit the same levels as we had in the previous games. We let ourselves down and it was so disappointing. We thought we really could have won it. Unfortunately, when it came to the big game, Australia rose and we went the opposite way. The ARL had split and they had some big players missing, so it was a missed opportunity.
I still watch back the games that I've played in - except that final. It's the only game I've never watched.
SS: The 'Roos had a young chap handed a young bloke his debut in the tournament called Andrew Johns. Do you remember coming up against him?
LJ: I met up with him and some of the other Aussies in Ledsham with Malcolm (Reilly). That's when it really kicked in that I was really going to Australia to play. In the game against Australia itself I think I tackled Andrew a bit on the high side and I thought 'oops, what am I doing?'. He just laughed it off, though. I think if we weren't going to be team-mates he might have done more about it!
SS: Let's go back to your club career - Leeds was your destination after returning from Newcastle. How was life as a Rhino?
LJ: I was quite lucky because having been in the final in 1997 with Newcastle, I then managed to reach two Challenge Cup finals. I was a winner and a loser on the big day, but I couldn't have asked for more at Leeds at that stage of my career. All through my career I played with some superb players, but whenever people ask I couldn't possibly name by best XIII. I appeared in the 1980s, 90s and the 2000s. I couldn't even pick three teams.
SS: After a second stint at Hull you then moved on to York. How was the drop down to the semi-pro ranks?
LJ: One of the reasons I went was Paul Broadbent. He's a good personal friend of mine and he asked me to go up there and give him a hand. When I first went down I thought 'what the hell am I doing?', but I thought if I went with Paul I might find another club that way after being released by Hull. We ended up being really successful in that first year. The three years I was there I really enjoyed it. I got made club captain in the second year when Richard Agar was there.
Even at York I played with some good players. Some of the Aussies would have done well had they gone higher up the levels. I also played alongside Danny Brough, the current Super League Man of Steel. As I said, we had some really, really good players.
SS: So when did you know the time was right to stop playing?
LJ: Mick Cook came in at York and I met him at Brighouse because my contract was a two-year deal with a third-year option. He offered me the third year and asked me if I wanted it, which I did at the time. Pre-season came and as usual I did well, because I enjoyed my training. Then, though, about halfway through the campaign I just realised I'd had enough. I just knew in myself, and I started to hate the training and the playing, but I just carried on. Luckily, at the end of the year, we got promoted and I'm glad I stuck it out.
But halfway through I'd had enough - I was travelling from Hull to York, working a full day and then going training. I was working for one of the directors and started at 7am, meaning I was leaving my house at 5.45am. We then weren't finishing training until 10pm, meaning I wasn't home for another hour. That cycle absolutely killed me for the three years, but I would say that I enjoyed being at York. They went out of the way to make me feel welcome.
SS: Did you always have a plan for what to do once you'd hung up the boots?
LJ: No, not really. All I knew was rugby but I wasn't interested in coaching. It's probably my own fault for not keeping in the game somehow, yet at that point I just wasn't interested in going into the coaching side of things. So I ended up doing a few jobs - I went straight from playing into attempting to sell cars. I was absolutely hopeless to be quite honest. I hadn't been trained up and it was a totally different environment. I left there and went into delivering cars instead, which I really enjoyed doing. Now, though, I do some taxi work.
SS: But would you like the opportunity to get back into the game now, perhaps in a coaching capacity?
LJ: Honestly, I don't know. I'm a bit delusional about the game these days. With the younger players, the age limits, they seem to get to the under 19s and then that's it, there's nothing else. They're basically saying that if you've not been signed up by the time you're 19 then you're on the scrapheap. But you can't have that - look at Jamie Peacock, he didn't develop until his early 20s.
SS: And what do you make of the sport now? Is Super League being hurt by the number of players being lost to the NRL?
LJ: I think over here we are losing a bit of our identity. It's just an Australian-style of play all the time. I've always associated English rugby league with skills and yet at the moment we just seem to be driving it forward all the time. We're not as good as them at doing that, though.
You can't blame the players for going to play in the NRL - it's the best competition in the sport and they want to test themselves against the best. The English game is going to suffer because of it, even if a few more opportunities will become available for young players to come through. Yet you want to see the best v the best in our own competition. I know it's not going to happen with their salary cap being so big it just opens the doors to those from outside Australia.