Wigan will miss Sam
Wigan Warriors legend Martin Offiah has a look at who will be the main contenders to feature at Old Trafford later this year.
Last Updated: 10/01/14 4:06pm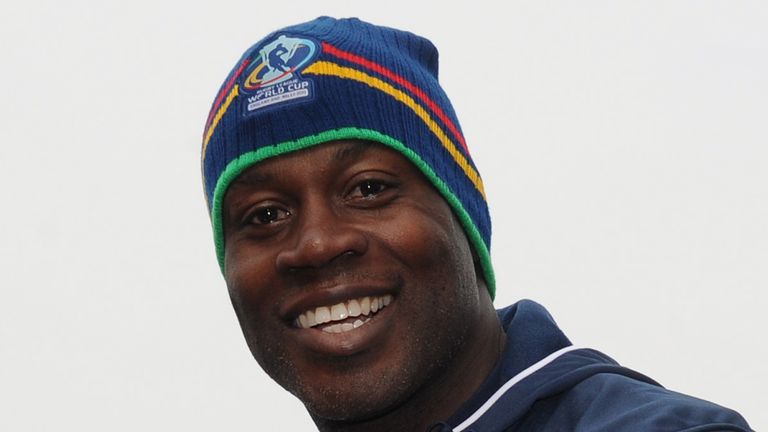 Wigan legend Martin Offiah feels the defending Super League champions will have their work cut out to retain their crown without Sam Tomkins and instead backs Warrington Wolves for glory.
The Warriors became only the third club to complete the league and cup double of the summer era thanks to their thrilling 30-16 Grand Final triumph over the Wolves back in October, which consequently provided their talisman with a fairytale farewell.
Tomkins is now preparing for a new challenge in the NRL having joined New Zealand Warriors in a word-record move while last year's showpiece also enabled veteran winger Pat Richards and England forward Lee Mossop to depart Wigan on a high.
But it was the void left by the 24-year-old full-back which seemed most crucial to fill and Offiah believes new signing Matt Bowen, who arrives following the end of his 11-year association with North Queensland, has the toughest of acts to follow.
The former England and Great Britain winger said: "A lot of focus will be on Wigan on the back of doing the double but they will be without Sam Tomkins and Lee Mossop this year.
"The loss of Tomkins in particular will obviously be huge and you have to ask what Matty Bowen is going to bring to the Warriors and if he's going to be able to totally step into his shoes.
"Tomkins has been such a huge player during a relatively short time at Wigan and already a legend even if he never returns. He won everything there is to win - Man of Steel, Challenge Cup, two Grand Finals - and certainly left a legacy in that Wigan shirt.
"When we talk about great Wigan full-backs in years to come, Tomkins is going to be a name which will come up.
"Not many people made Wigan favourites heading into 2013 season because of all the players they had lost then so this is another hurdle which they need to overcome."
World Cup Challenge
Wigan begin their Super League campaign a week early against Huddersfield on February 7 due to their trip to Australia for the World Club Challenge clash with Sydney Roosters later in the month.
And while Offiah admits this is slightly disruptive to their season, he hopes Wigan will benefit from the experience.
He said: "The World Cup Challenge will benefit Wigan even though it initially seems to be a great imposition and slight disadvantage so early in the season. We've seen with Leeds in the past that it can distract you from the domestic campaign.
"But they'll be out there playing the New Zealand Warriors in a friendly beforehand as well so Sam Tomkins is going to get an early look at his old team with his new team-mates.
"Then to play against an Australian team in Australia is one of the biggest challenges in rugby league and one which hasn't been attempted since Wigan beat Brisbane back in 1994.
"Competing at that level against such calibre of NRL opposition will no doubt test Wigan's players and help them reach a higher standard."
Nevertheless, Offiah thinks Warrington are marginally the better bet for outright glory as they look to make it third time lucky having lost the last two Grand Finals at Old Trafford.
He said: "It's hard to pick a winner right now but if I had to choose one who I think will definitely make the Grand Final, it would be Warrington.
"They're one of the bookies favourites and they've got a younger squad this year after Tony Smith let several senior players such as Garreth Carvell, Adrian Morley, Brett Hodgson and Lee Briers leave.
"They've been a big part of what Warrington have done over the past few years so it's down to Richie Myler, who didn't have the best end to 2013 due to injury and missed out on the World Cup, to step up and become a key player this season.
"They've got a lot of good young players coming through as well while Stefan Ratchford is going to be an important senior player so I'd expect them to be strong and at least get to another Grand Final for the third time consecutively and possibly win it."
Other contenders
Of the other leading contenders, he added: "You can never overlook Leeds of course. No matter how well or badly they do during the regular season you always know they will be there or thereabouts when it really matters. If you want to get to the Grand Final then the chances are that most roads will have to go through Headingley.
"A lot of eyes will also be on St Helens for Nathan Brown's second season in charge. Last season wasn't a great one for Saints - they started slowly and despite recovering, they then got knocked out in the play-offs to Leeds.
"But James Roby's decision to sign on the dotted line and probably end up finishing his career at the club rather than go to the NRL is a major boost for them and Brown.
"They're going to have a pretty big awesome pack even though their new signing Mose Masoe won't start the season due to injury and they've also brought Luke Walsh into the half-back position."
Offiah is also intrigued as to how another of his former clubs Salford will fare after making eye-catching signings such as Rangi Chase, Adrian Morley, Gareth Hock, Francis Meli and Tony Puletua.
He said: "There will be a lot of interest in how Salford Red Devils start the season. They've gone down the route that the likes of Hull have previously gone down by signing established names even though those players have plenty of miles on the clock.
"Marwan Koukash has put his money where his mouth is but you have to wonder if they've signed too many established names like Morley and Rangi Chase. Rugby league is becoming more of a young man's game and if these older players get injured, I'm not sure they have the quality to back them up.
"But if they do all stay fit, it'll be interesting to see if they can make the play-offs. Any time you inject money into a system you expect success - but that certainly wasn't the case for London Broncos last season!"
Martin Offiah is represented by ROAR Sport @ROARSPORT1