Super League: Stevo assesses St Helens' victory over Warrington
Stevo hails Luke Walsh as a "great, great player" after St Helens' 38-8 thrashing of Warrington.
Last Updated: 14/02/14 12:03pm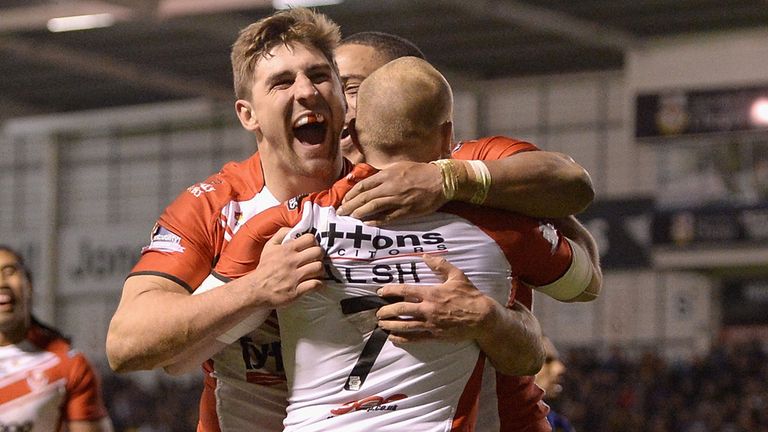 The Australian half-back, who joined from NRL club Penrith Panthers, scored one of Saints' six tries and kicked seven goals from seven attempts at the Halliwell Jones Stadium.
Joel Monaghan, Tommy Makinson, James Roby, Kyle Amor, Anthony Laffranchi and Adam Swift all also crossed for the Saints. But there was no doubt as to who was the star of the show.
"He [Walsh] had a great game. His combinations and kicking game in open play was outstanding," Stevo said. "They have signed a great, great player."
Walsh was an authoritative and creative influence at half-back and Stevo believes Saints have finally found a worthy long-term replacement for Sean Long, who left the club in 2009. But Stevo also praised the defensive impact Walsh had on the game.
"It was not only when he had the ball in hand, also in defence when he got back so many times to rescue the situation," he said. "When on a few occasions that Warrington put the stab into the in-goal area, you could guarantee that it was that man Walsh again who came to the rescue."
Where Walsh lead, Saints followed.
"The defensive qualities of St Helens has put down a marker in this season already," Stevo said. "The way Nathan Brown has got them working very enthusiastically, but also with one player going low at the ankles and at least one, sometimes two, to make sure that Warrington could not get the offload - that was the key factor of the night."
Shellacking
In contrast Warrington were poor and Stevo believes coach Tony Smith has a huge amount of work to do with a side that is coming to terms with life without Lee Briers, who retired due to injury, and Adrian Morley, who moved to Salford.
"They were battered, bruised and they looked quite bewildered," Stevo said. "It was a real good shellacking. Good work in the forwards by Saints. Some of the wonderful defence from the Saints tonight just confused this Warrington outfit - they just did not know where to go.
"They looked like they had no leader. We mentioned before the kick-off, Lee Briers - would it affect them? The answer was yes.
"Tony Smith has got a big job ahead of him. First of all he has to make sure he gets his good forwards moving into it.
"Warrington would have been a better side if Lee Briers had been out there and also the leadership of Adrian Morley. The forwards got battered. It is a long time since I saw a Warrington pack get absolutely hammered."