Sam Burgess must focus on adapting to union rather than the 2015 World Cup, says Brian Carney
Brian Carney fears too much pressure will be put on Sam Burgess to make the 2015 World Cup squad.
Last Updated: 18/02/14 2:16pm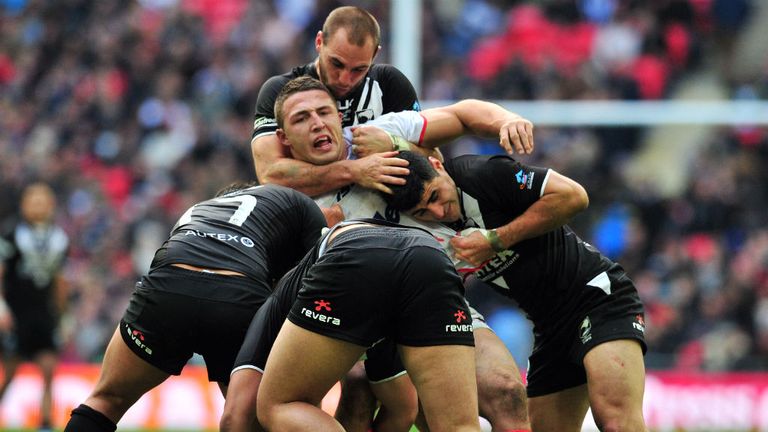 However, Brian Carney, who played league for Wigan and union for Munster, believes that the pressure of making the England squad in time for 2015 could hamper his transition into the 15-man game.
"Burgess is top dollar," said Carney on Sky Sports News. "He is living the rock star life in Australia. He is an incredible player - he is big, he is tall and he is strong. In both codes you get plenty of big, strong and tall athletes but Sam strikes me as one of those people who will be successful at most things he puts his hand too.
"It's a question of how much pressure is put on him to make the England World Cup squad. If the World Cup was taken out of the equation and all he had to do was fit into a Bath team then I would be confident of him making that transition but I am worried about the pressure put on him to make this World Cup squad."
The right fit
Questions over which position Burgess should play and how best to utilise his skills have already started, with centre looking like the best fit for him. However, Carney says that the nuances of the role in union are very different to league and Burgess will have to be dedicated to getting that right.
"It is very difficult, when you move from league to union as you get exposed to what they are capable of doing - especially in and around the ruck; you realise just how hard it is and what a skill it is," explained Carney.
"It was interesting that Bath coach Mike Ford mentioned position 6, 7 and 8 and 12 and 13 - back row and the centres. They are the people who have to be the very best on the ground at the rucks and that is what Sam is going to have to master if he wants to be a world-class rugby union player.
"There is a big difference in the games - in rugby league once the tackle is completed your work almost ends there and you prepare for the next set. In union once the tackle is made then all the hard work starts in trying to secure the ball. And centres in particular have to be very good at that - I can see Sam being pushed towards that centre position.
"I would see back row as the only other option for him and again he has got to learn all the ground skills and all the lineout skills too. There are guys who have been doing this for years and years - Sam will have to try in an instant to get up to their levels.
"I would be more confident of him doing that in the centres than in the back row. The back row is a dark place to be, I was caught there a few times and was subjected to some of their skills - not a place you want to be!"
International recognition
Carney has no concerns that Burgess' switch will open the floodgates for more high profile league players to convert to the 15-man game but does understand the appeal.
"The attraction in rugby union is playing on the international stage. There will be people in South Africa, Australia and New Zealand who will be asking where Dewsbury is -Sam's hometown.
"Sam Burgess will be known all over Australia but he has not got that international profile or that international exposure and the glamour of running out for an international game - rugby union can offer that."