Rugby League Experts & Columnists
Barrie v Terry: Pair go head-to-head with their Super League predictions
Barrie McDermott and Terry O'Connor go head-to-head with their Super League predictions...
Last Updated: 20/02/14 1:58pm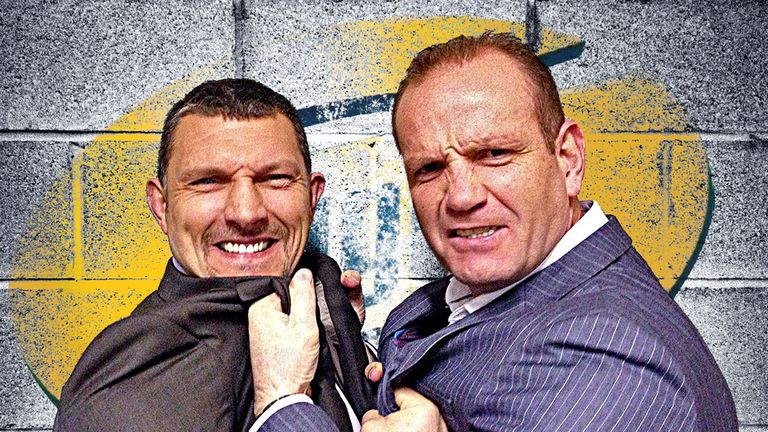 Last season Terry pipped Barrie to the post and proved to be the most successful tipster - but Barrie is determined to make amends in 2014!
Each week they will give their predictions for the Super League games, scoring a point for a win and if they both pick a winner then the one with the closest score gets an extra point!
Current standings
Round
Barrie
Terry
Round 1
7
8
Wakefield Wildcats v Bradford Bulls: 8pm, Thu, Sky Sports 1 HD
Terry says: Everyone's tipping these to be the teams that go down - or at least be in a relegation battle. Wakefield lost their star players last season - they lost their whole front row - so I was very impressed last week with the way they played against Salford. I don't think anyone gave them a chance of going to Salford and turning them over and they were the better side. If you look at Paul McShane and you look at who was playing against him - Tim Smith and Rangi Chase - he was the best player on the park. I thought he was exceptional. Six lads made their debut but the headline-grabber in this game is Jarrod Sammut, making his debut against his former club. I genuinely think that will be the difference: Jarrod Sammut playing alongside his new team-mates. He'll be out to impress them.
Bradford's woes and publicity seem to have been going on for ages now and I think it really affects the team. They have lost some players that they thought they had - like Sammut and Gareth Carvell - so it affects the way Francis Cummins wants to come and play the game. I don't see where Bradford's power is going to come from. I don't see where they can match a Wakefield side who are playing at home and who were exceptional last week, led by Paul McShane. With Jared Sammut in this game I just think they are the side who have more to play for. I think Bradford will be looking around to see who their next employee could be.
Terry predicts: Playing in front of the Sky cameras Bradford will lift themselves but I just see this being a 12-point ball game to Wakefield.
Barrie says: This game will have an extra ingredient to it because of Jarrod Sammut. He has given good service to Bradford since joining them from Celtic Crusaders a few years ago. However, he has left before the first game this season and pledged his allegiance to the Wildcats. There is a lot going on at Bradford and the uncertainty surrounding the club has been well documented so you cannot be too hard on a player for making a decision based on their livelihood. Still, the Bradford players will know just about all there is to know about Sammut come Thursday night, but good luck guessing what he is going to do - he is a very instinctive player and I don't think he knows what he is going to do himself until he does it! Wakefield gave a good account of themselves last weekend against Salford.
Barrie predicts: It will be a tough, tight game but I just think the class of Sammut will be the difference and I am going for Wakefield to win by eight points.
Leeds Rhinos v Warrington Wolves: 8pm, Fri, Sky Sports 1 HD
Terry says: This is probably the best fixture of the round. I think everyone looks forward to games like this and it's why Super League is called Super League! Leeds Rhinos' outside-backs are absolutely phenomenal with their speed and agility. The old stagers upfront were solid, a very stable side in all the key positions. How can you write off the Rhinos? Every year I keep saying 'they're getting old'. But those old horses still keep going!
For Warrington, they will need Matty Russell because he missed last week which affected the way Tony Smith played the side. He had to move Stefan Ratchford to full-back, then they put Michael Monaghan out from the pack into the half-back role with Richie Myler. New season, new team, intelligent coach. They scored in the first [two] minutes last week but then they didn't create anything until 70 minutes. Of course they miss Lee Briers - he was part of Warrington for 17 years. But I think Tony Smith is a clever enough coach, a good enough coach to know that his team have enough talent, enough team spirit and a solid work ethic to get things right.
Terry predicts: Warrington will get better and we shall see some of that improvement this week but not enough - I'm going to go with Leeds to win by just six points.
Barrie says: These two teams had different fortunes in the first round. Leeds stayed in that grind as they call it and then kicked off in the second half and scored 28 points. Tom Briscoe is looking like a very special player and Leeds are expecting big things from him and Kallum Watkins on their right edge. Warrington were humbled by St Helens - perhaps it has something to do with Tony Smith timing their peaking a bit differently this year. The last couple of years they have been in the Grand Final without coming away with the spoils. Warrington will be much improved this week especially in the engine room as Ben Westwood will want more grunt in the forwards.
Barrie predicts: This will be a fast, high-tempo game but I back Leeds to win by 12.
St Helens v Hull FC
Terry says: St Helens were impressive last week and I have tipped them for the title. They are the team to beat. To go to Warrington and score 38 points, that's unbelievable. St Helens defended and defended. Hull scored 36 points but let 34 in. Both teams can score but St Helens are the better defensive team.
Terry predicts: St Helens to win by 14.
Barrie says: Hull FC would have had the tackle bags out this week because there are a few things they need to fix. Whether it is structural defensive work or just the one-on-ones, Lee Radford would not have been happy with their defence and will demand better. Saints were exceptional last week though and they are going to be very hard to stop. Lethal in attack and defence as tight as Tez's trousers, Luke Walsh was the talk of HJ and he'll want more of the same. It will be a special night at Langtree Park as both clubs pay special tribute to the great man Steve Prescott.
Barrie predicts: There is only one of Steve Prescott's teams at the moment that's head and shoulders above the rest of SL and that is Saints and I am going for them to win by 12 on this very emotional occasion.
London Broncos v Salford Red Devils
Terry says: Rangi Chase might not make this game, he was injured last week. When you look at their performance last week Gareth Hock was like a runaway train, he was unstoppable. Junior Sa'u is definitely one to watch - for everybody in Super League. And Tim Smith is enjoying his new role at Salford. They're the team under pressure. I watched London closely last week and I felt sorry for them because some of the tries that Widnes scored were top drawer! London didn't take their chances and if you don't take your chance you won't win games.
Terry predicts: This is a tough ask for London and I reckon Salford will win, even without Rangi Chase, by 38 points.
Barrie says: Salford had a good first half last week and I was impressed with their physicality - Lama Tasi is a sledgehammer! They got a few knocks last weekend though and there are doubts over a few, will they be the same without two of their big guns in Rangi Chase and Junior Sau?
Barrie predicts: This is Salford's game all day and all night. It will be two from two for the Red Deviloution. The less said about the Broncos at this stage of the season the better. They are going to get better but not quick enough for this weekend. Red Devils by 20.
Castleford Tigers v Catalan Dragons
Terry says: Catalan scored 34 points and didn't win the game. That's shocking, that's criminal. Olivier Elima isn't playing because he's picked up a four-match ban and I think he's very lucky. I'm not an ex-player who has a pop at other players but that was nothing short of disgraceful what he did.
Last year, Catalan were being penalised left, right and centre because they were trying to play too physically. They had a bit of that in them at the weekend but, in the last 10 minutes, they showed how dangerous they can be by scoring two or three tries.
Terry predicts: I'm going for Castleford because looking at Catalan they're still ill-disciplined. You can have all the skill and all the stars but if you give penalties away playing at a ground like Castleford's who will work hard in all aspects without any star names, Castleford will win this game by 10.
Barrie says: Catalan were their own worst enemies at times - they did not pay attention to their defence. They let themselves down with their discipline and Olivier Elima's indiscretion will cost this side. Will Brent Webb and Scott Dureau come back this week for Catalan? We shall have to wait and see.
Barrie predicts: I think Catalans experience will see them bounce back from last weekend's disappointment and I back them to bounce back by 8.
Huddersfield Giants v Hull KR
Terry says: Huddersfield were exceptional last weekend and fresh after a week off. Danny Brough picked up where he left off last season, he was absolutely brilliant. He just believes he can do anything with the ball. He plays off the back of a very good go-forward. I thought Antonio Kaufusi had his best game since he's been in England. There's competition for places although it's a loss to lose Larne Patrick. After last week I don't have the confidence to back Hull KR. They've got to prove to the rugby league world that they can play. They've got all the players in front of a decent crowd and they were shocking, absolutely shocking. So Craig Sandercock has got a big job because he knows it's a tough game and people will start throwing stones soon.
Terry predicts: I'm going with Huddersfield winning by 10 points.
Barrie says: Huddersfield had the weekend off last weekend after their display against Wigan. KR also had a decent run in the first half against Leeds and were very physical. They are a like Salford in as much as they have gone for a very big powerful pack - players like Michael Weyman and Neville Costigan will take a bit of time to settle in. Weyman won't be selected because of his suspension but the forwards will look to lay the platform and it should be a good tussle in the middle.
Barrie predicts: I am not sure Hull KR have enough to match it with the Giants though. I think they will win by 12 points.