Super League: Zak Hardaker on a mission
Leeds Rhinos full-back has already impressed in attack and defence as he aims to make amends for disappointing finish to 2013 campaign...
Last Updated: 25/02/14 1:15pm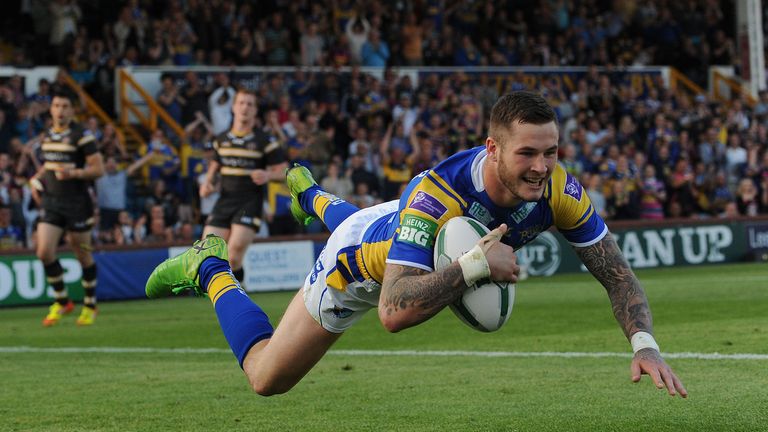 Unable to help Leeds defend their Super League crown, the full-back then withdrew from England's World Cup squad due to "personal issues", while he was fined and issued a written warning by his club.
That was last year, though. It may still be early, but 2014 could not have started much better for the former Featherstone player.
The Rhinos are two-for-two at the start of the new campaign, Hardaker has scored three tries in those victories and also produced a last-man tackle in the televised clash against Warrington that caught the eye of the Sky Sports commentators as much as his brace of tries.
Stefan Ratchford looked a certain scorer for the Wolves, only for his opposite number to not only halt his forward progress but also drive him backwards, making sure the attacking player could not still reach out and make it to the line.
Hardaker insisted he was just doing his job in his post-match interview, his matter-of-fact reply showing a focus to make sure that he makes headlines for his on-field actions.
"That's what I'm there to do - save tries and then try to create them," he told Sky Sports' Rod Studd.
"That's the job of the full-back. Full-backs get paid to do that, those last-ditch efforts."
Attacking instincts
The job of the full-back is also to be a key cog in attack. Hardaker showed the supporting instincts required when he got himself in the right place to pick up Tom Briscoe's grubber to break the deadlock, then added Leeds' third try with a darting run that caught Warrington napping early in the second half.
An earlier assist for Briscoe made it a superb outing for a man who, having initially been used by the Rhinos in the centres, now seems to have made full-back his permanent home (and it speaks volumes to the strength in depth of Brian McDermott's squad that Ben Jones-Bishop cannot get in the 17).
Yet that tackle on Ratchford was still perhaps the highlight of his night, showing just why national boss Steve McNamara selected him in his 24-man party for World Cup duty.
Having been left out of the line-up to be involved against Italy in a pre-tournament friendly, Hardaker reminded everyone of his talents by playing a starring role for England Knights in their thrashing of Samoa, not least kicking eight goals from nine attempts.
Yet any hopes he had of trying to help the hosts to glory were gone when, after two group games in which he had not made an appearance, it was announced the 22-year-old was withdrawing from the squad.
He issued a public apology after being involved in an unspecified incident and admitted he had paid a "heavy price" for what had happened. He also paid a high price, Leeds docking him £2,500 after undertaking their own investigation.
Rumours suggested Hardaker could be heading out of Headingley, potentially to play in a Cherry and White shirt instead, but he remained with Leeds, and has since shown his desire to make amends, both on the field and off it.
"It was a kick up the backside. I think I needed it as well," he said. "That was last year, it's gone now. I'm looking forward to this year and trying to get to the Grand Final like we did in 2012."
The signs are good; no man has made more metres so far in the First Utility Super League, while his 15 tackle busts sit him only behind Castleford's Justin Carney.
With time firmly on his side, Hardaker has all the skills to become a Leeds legend, and the £60,000 they paid Rovers to acquire him looks a snip.
Peacock example
The presence of Jamie Peacock should offer a great example to Hardaker. Age does not seem to wither him, with the former England international making no fewer than 60 tackles against Warrington (some are actually claiming that number should now be 61, but let's not quibble too much over it).
For good measure, he also dealt with an up-and-under in the closing stages as the Wolves tried to claw their way back into the contest, showing that you can teach an old dog new tricks.
"I really enjoy playing here," Peacock said when interviewed after his herculean efforts. "It's a special job playing in front of 16,000 people for my home town. I feel I'm really lucky to do this job."
We are all lucky; the evergreen prop signed a two-year contract extension at the start of the year, meaning he will carry on tackling, running hard and perhaps even catching the occasional kick until just shy of his 39th birthday.
His decision is a boost not just to his club, not just to the young players at Leeds who get to work alongside him, but also to the sport as a whole.