Rugby League Experts & Columnists
Barrie v Terry: Pair go head-to-head with their Super League predictions
Barrie McDermott and Terry O'Connor, with a bit of help from Brian Carney, give their Super League predictions...
Last Updated: 27/02/14 2:13pm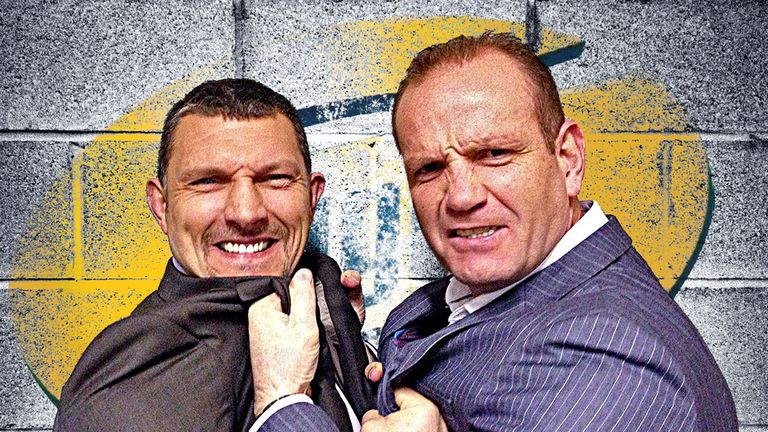 Last season Terry pipped Barrie to the post and proved to be the most successful tipster - but Barrie is determined to make amends in 2014!
Each week they will give their predictions for the Super League games, scoring a point for a win and if they both pick a winner then the one with the closest score gets an extra point!
Current standings
| | | |
| --- | --- | --- |
| Round | Barrie | Terry |
| Round 1 | 7 | 8 |
| Round 2 | 5 | 6 |
| Total | 12 | 14 |
Salford v St Helens: 8pm, Thu, Sky Sports 1
Barrie says: Two of the unbeaten sides go head-to-head in this mouth-watering match. Salford have had a dream start to the season - even though I think that there may have been a few Salfordians who may have been a bit concerned after their first game. Rangi Chase did not play last week but that did not stop them from taking London to the cleaners. This will be a huge test for Salford and their hard-hitting, freshly put together forwards will relish the chance to knock off a big gun, and give them a chance to see how much confidence they have in each other and in the new regime. History is against them after losing their last seven at the hands of Saints. Although Saints were not perfect against Hull FC, they just had enough to get the two points. They put in a terrific performance against Warrington the week before and had to back that up against a team they were expected to beat; for understandable reasons the players were not quite up to the standards they set against Warrington but they still managed to get a victory. Nathan Brown knows they can't afford to pick up that habit which is why I expect to see them back up this week.
Prediction: In front of the Sky cameras, I expect Saints to get another good win. Saints by eight points.
Terry and Brian say: This is going to be a real test for Salford. Even without Rangi Chase they were still impressive and I think so far Lama Tasi has been the find of the season. It's going to be tough against this Saints side who I picked for Grand Final glory at the start of the season. Their defence has been the most pleasing thing for Nathan Brown this year - they are so dangerous not just because of the way they attack, but because of the way they are defending.
Prediction: I think this game will go in Saints' favour and I am backing them to win by 12 points.
Hull KR v Castleford: 8pm, Fri, Sky Sports 1
Barrie says: KR got themselves a draw last week - I don't think the start of the game was good enough for the players and their coach but they did well to fight back and will take a bit of confidence from that. Starting a game well is crucial - whoever starts the best will take this game. Travis Burns is the lynch pin for the Robins and he was on fire last week. Castleford had an amazing game against Catalans. Justin Carney has earned the nickname the tank on the flank but I think he should be called the Thing on the Wing! He is such a powerful player and everyone enjoys watching him play. Liam Finn and Marc Sneyd are doing a great job for the Tigers, it will be those two who need to match Burns and his team.
Prediction: Carney to lead the way for Castleford and I expect them to win by 12 points and Carney to score one try.
Terry and Brian say: Hull KR were disappointing last week - they started the season with a squad that people looked at and said it was the strongest one they have had since they started Super League; that is quite a statement. They have a good set of half-backs with Sean Gleeson and Travis Burns and they brought in some pretty big forwards - although they will be without Justin Poore and Michael Weyman who are both suspended. They are not taking to the field with anything close to their strongest side. People need to tune in to watch Justin Carney for Wakefield - he is the second best Carney to ever play Super League according to Brian!
Prediction: I think Cas will win this by eight points.
Catalan v Leeds: 10pm (delayed coverage), Fri, Sky Sports 1
Barrie says: Catalans have got off to the worst possible start. They look a shadow of their former selves at the minute. This week they are in familiar territory but after just two games they need to start rebuilding. The players have to get in the right mind-set to take on what is a formidable side. I believe that the Dragons have the potential to trouble any team and will click soon. The back division of the Rhinos is really exciting at the moment - everyone is looking at Tom Briscoe and Zac Hardaker and what great threats they are with the ball. Jamie Peacock was outstanding as well - his defensive display was superb. Leeds will give their Captain Sinfield until the 11th hour to prove his fitness but Liam Suttcliffe will be ready if he doesn't make it
Prediction: Leeds need to get it together in attack, I predict that the real Catalans Dragons team will turn up in Round 3 and it will be a tight contest but I think Leeds will clinch this one by four points.
Terry and Brian say: Leeds are just an exceptional side - last week it was probably one of the best defensive displays I have seen for some years. It was a weird one though as they actually missed 36 tackles in that game but if someone missed a tackle there was someone else covering who made sure they made that tackle. They understand what being in a team is all about and worked so hard for each other - they always had each other's back. I have been very disappointed by Catalans this season; they have conceded 68 points in the last two games. If they think they can welcome Leeds Rhinos by bullying and intimidating them, they have another thing coming. They have to do a lot more if they want to win. I can't back them at the moment because they are not showing enough quality or determination. The ref is going to be under big pressure in this game and everyone will be watching Catalan like a hawk because of all the nasty stuff they have been involved in this season.
Prediction: I can't see any other winner but Leeds here - Rhinos by 18 points.
Widnes v Huddersfield
Barrie says: Widnes had a good win the week before when they played London. Kevin Brown was right in the middle of everything that was good about Widnes. They have had a week off and will be nice and fresh and looking forward to this game. Huddersfield had a mixed bag last weekend, they got off to a great start but clocked off and Hull KR earned themselves a draw. That draw would have really affected the way they trained for this game and I think Paul Anderson would have left no stone unturned. It's always tough to go to Widnes these days and Denis Betts has worked really to get the right attitude into his players.
Prediction: Last week's lesson would have been learnt by the Giants and I am going for a big win for them by 16 points.
Terry and Brian say: Widnes will be looking forward to this game. Even though Huddersfield were impressive in Round one against Wigan, I am going to tip Widnes! I am not only tipping them because I have a Widnes air freshener in my car, but I think they can really create tries. Joe Mellor and Kevin Brown were exceptional last outing against London in Round 1, as was Rhys Hanbury. Jon Clarke may be back which gives them more strength. Huddersfield were the best team in Super League last year and their main man as always is Danny Brough. The way Huddersfield play is great - they really play an expansive game. Defensively they are also one of the best teams in the competition.
Prediction: So why am I going for Widnes then? Well, I just feel that there could be an upset here. Widnes by four points.
Wigan v Wakefield
Barrie says: I feel a hangover coming on, and not after Tez's homebrew either. Wakefield lost to Bradford last time out and that could be very costly for them. They would have targeted that game as one to win - the bottom teams will want to be competitive against the teams that are above them but they need to win the games against the teams that are around them; that is key for those worried about being in that dog fight. Wigan are coming off that World Club Challenge loss and may be a little bit vulnerable. It would have taken a lot out of them mentally and physically. They were heroic in defeat and will be boosted by the experience. Flower, McIlloram and O'Loughlin were outstanding in defeat - plus the two youngsters Sarginson and Joe 'Budgie' Burgess looked extremely comfortable at that level. However Wakefield have a chance here!
Prediction: I am going to trust my instinct and back the unfancied Wakefield to go to Wigan and win by six points.
Terry and Brian say: Wakefield will look at this game and think they have a chance. Wakefield will think that if they can put in a good solid performance then they could catch Wigan on the hop. Wigan have travelled back from Australia after their World Club Challenge loss and may be a little undercooked. It takes some time to get over that sort of travel as well as the disappointment. If Wakefield have any chance of beating Wigan it will be in this game.
Prediction: A few of the Wigan senior players did not play their best in Australia and they know that - they will want to bounce back and I expect a big reaction from them. Wigan to win 14 points.
Bradford v London
Barrie says: It's been a week that the players and staff were expecting and for Bradford off the pitch bad news comes as regular as the post, but their win against Wakefield would have done them the world of good. I think Francis Cummins has acquired the skill of gathering the troops around the club and getting them into the 'us against them' mentality. London seemed to be a bit better this week, although it's a long road ahead. They have signed back rower Atelea Vea from the St George Illawarra Dragons, who at 27 is in his prime and will add some experience to the young players.
Prediction: London have let more points in than any other team so that will be the main thing Tony Rea will try to fix up in the coming weeks. Bradford to win by 18 points
Terry and Brian: Although London were well beaten by Salford last week, it was a better performance from the week before when they played Widnes. They just need to ask more questions and I think the problem is that they lack creativity. I don't know whether it is confidence or if they need someone to come in and push them around the park a bit better. Even against Bradford who are having so many problems, I am not sure they will have enough. Bradford players will be concerned about their future but I am sure they will react well and come out to really play.
Prediction: If Bradford can field a side then I think they will have too much for London. I am going for Bradford to have a positive week and hopefully the fortunes of the club will turnaround with an eight-point win.
Warrington v Hull FC
Barrie says: Warrington have had the worst possible start this season. They were good in parts against Leeds but did not quite threaten their line enough. Tony Smith's standards are very high and I think his side's performances are falling short of those standards. But when they start to click and get into their usual rhythm then they will start to rack up the points. Defensively they are not too far off but they need to focus on their general attack, kicking game and converting chances into points. Hull were a mixed grill against Saints last week after their good start to the campaign with a win against Catalan in the first round. Paea gets better every game and Iafeta Paleaaesina has definitely come back from Limoux Grizzlies, a rejuvenated player after two years in France
Prediction: I don't think Hull FC will have enough for this Warrington side eager to get on track. Wolves by eight points.
Terry and Brian: A lot of people are talking about Warrington under performing because of key players leaving, however I think one player who has been playing admirably is Anthony England. I travelled down to London last week with Jamie Peacock and he said he hurts his shoulders when he runs at England. There are not many players that Peacock hurts himself running into! Wolves boss Tony Smith criticised Richie Myler after their loss to Leeds saying his game was not up to scratch at the moment but if Warrington had been playing anyone else last week they would have won. I think they are close to putting their game together once some of the new boys like England settle in. Wolves are too good a side to write off. Hull FC got well worked over against Saints and were unable to contain them - especially in the middle! Can Warrington to the same thing? Defensively Hull FC really need to tighten up, especially out wide where Warrington have some good runners and finishers.
Prediction: I am going to go for Warrington to win by 12 points.