Super League: Castleford look to learn from mistakes following home loss to St Helens
By Rob Lancaster
Last Updated: 14/04/14 10:20am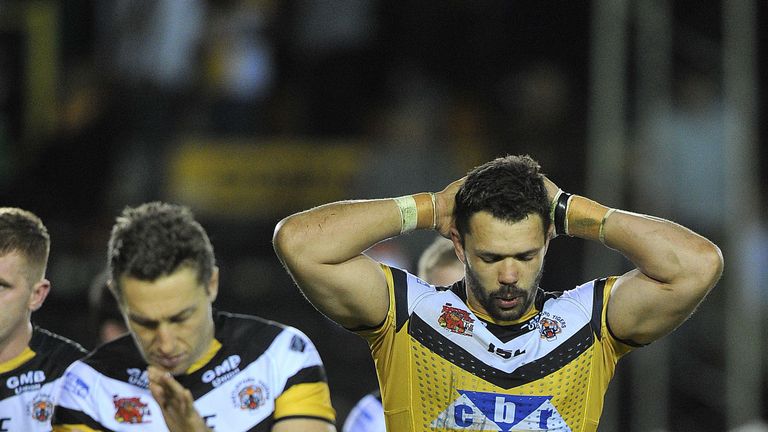 What would be the best word to describe Castleford's 30-28 loss to St Helens in round eight of Super League – gutting? Devastating? Perhaps, even, undeserved?
Daryl Powell used a different one during his post-match interview on Sky Sports: "Unacceptable".
Such a description might seem harsh to those who had seen the 'plucky' Tigers come so close to ending Saints' 100 per cent record in 2014. But plucky isn't a word Castleford coach Powell wants associated with his team. He does not want praise in defeat - he wants points in the bag.
There were some harsh lessons in there and we have to learn them. There were some real dumb errors from some players.
Daryl Powell
It was an 18-point lead that the hosts had built up during a one-sided opening half at the Mend-a-Hose Jungle that had seen Castleford not only outwork but also outplay opponents who arrived in West Yorkshire sitting pretty at the summit.
With the half-back combination of Marc Sneyd and Liam Finn steering (though perhaps kicking would be the better description, considering they set up a try apiece by putting boot to ball) their side around, and with centre Michael Shenton in prime form against his former employers, the Tigers looked top class.
Saints were in truth sluggish in the first 40 minutes, and Powell will have no doubt warned his players to expect a much-improved display from the visitors after the break.
What he also will have spoken about is the need to retain control, and it is in that area that he found their efforts "unacceptable".
Careless in possession and unable to clear their own territory, a crumbling Castleford offered St Helens a lifeline that they quickly accepted with both hands. By the time Paul Wellens capped his landmark 414th appearance with a try to cut the gap to two with plenty of time still left on the clock it seemed a Saints win was inevitable, such was the sudden but sizeable shift in momentum.
Sure enough, winger Adam Swift completed the comeback by diving over in the left corner, the third try scored by Saints in a dramatic final 13 minutes. It was outstanding viewing. Well, except for one man.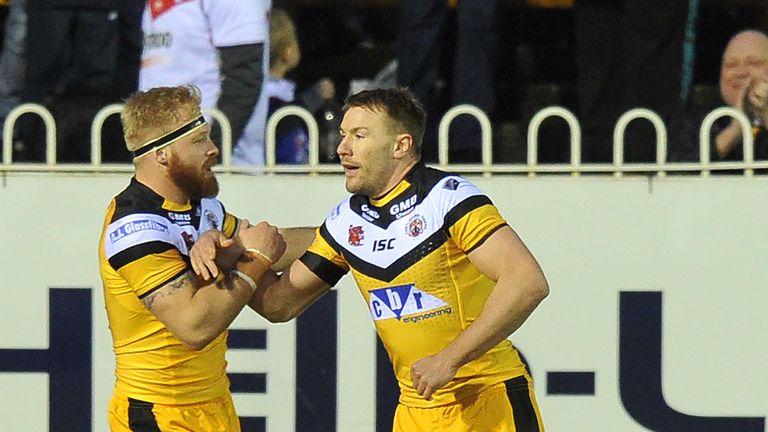 Harsh lessons
"(We made) too many errors - we tried winning the game again and we didn't need to," Powell told Bill Arthur. "I expected us to win the game and I thought we should have won it.
"There were some harsh lessons in there and we have to learn them. There were some real dumb errors from some players.
"If you want to just brush it under the carpet then it will just happen again – we have to sort it out."
If Powell's comments did not offer a pat on the back to his players, then opposite number Nathan Brown did give them some crumbs of comfort. "Daryl has got them playing some really nice stuff," the Australian said. "Through the middle of the field they were far superior to us."
Nice words, though, won't win games of rugby league.
In pre-season Justin Carney spoke about the potential for the Tigers to make the top four in 2014. It could easily have been dismissed as pie-in-the-sky stuff. After all, everyone fancies their chances before a pass has been thrown. Optimism is always present at every club's media day, even if it is there more in hope than expectation.
But Castleford's early performances, including a home win over Wigan that saw them on the right-end of a late, late score, had suggested Carney's prediction wasn't that far-fetched at all. He clearly believes, having committed his future to Cas by signing a new five-year deal (a contract extension that is good for both his club and Super League as a whole, plus maybe occasionally the pockets of the Rugby Football League's disciplinary committe considering his appearances in front of them last year).
Powell's reaction in the aftermath to only their second loss so far in the campaign shows that the bar has been set high. There is no disgrace in losing to a side like Saints, but letting a game slip from your grasp when you were in almost complete control will not be tolerated. 
The busy Easter period will offer the Tigers the chance to quickly bounce back, to show they have learned their lessons in defeat, starting with a Good Friday derby against Wakefield.