Kevin Sinfield believes rugby league legend Jamie Peacock could play until he is 40
Last Updated: 13/05/14 2:14pm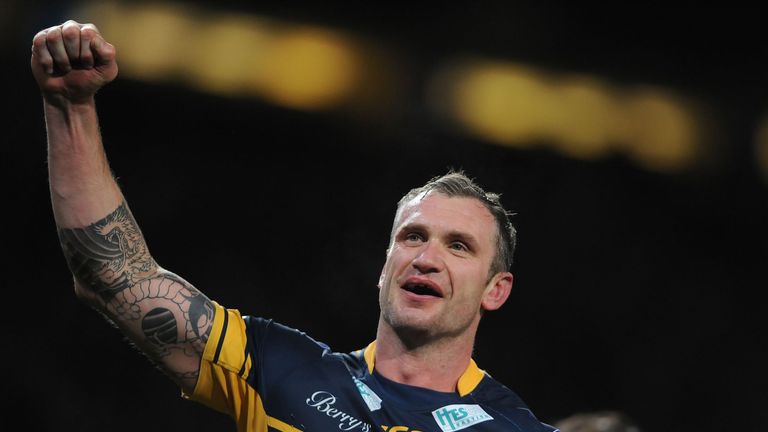 Leeds Rhinos captain Kevin Sinfield believes evergreen team-mate Jamie Peacock could go on playing until the age of 40.
The former England captain has enjoyed a new lease of life since retiring from the international game two years ago and Sinfield, who inherited the captaincy of the national team from him, is in awe over his superhuman work-rate for his club.
Peacock is statistically the hardest-working player in Super League, with 346 tackles and 245 carries after the first 12 rounds, while only team-mates Zak Hardaker and Tom Briscoe - both outsides backs - can top the 1,587 metres he has made so far this year.
There are things that he does on a rugby field that nobody else can do world-wide and he's still doing that at 36.
Sinfield on Peacock
Yet the most impressive statistic is the amount of time the 36-year-old spends on the field, very often playing the full 80 minutes, which is rare indeed for a front-row forward in the modern game.
Leeds coach Brian McDermott, who played alongside Peacock during his emerging years at Bradford, revealed after last Thursday's crucial derby win at Castleford that he three times tried unsuccessfully to substitute his number 10.
"I cringe for young Chris Plume (Leeds' player performance manager) when I give him instructions to get JP off," McDermott said. "When I say to him 'go on and get JP off', he literally shakes."
Far from bowing to player pressure, McDermott accepts that his pack leader knows his own limits and Sinfield says the coach is right to allow Peacock to make the call.
"JP's tearing up trees," Sinfield said. "I won't be losing any sleep over people trying to get him off. I'm just glad it's not my job to try and get him off.
Brilliant
"JP's been brilliant for us and I think he knows better than anybody when he's over-cooked. But he relishes those type of games - when it's nip and tuck - and he realises we need him."
Peacock decided at the start of the year to put off his retirement plans until the end of 2015, just before his 38th birthday.
Salford captain Adrian Morley is currently Super League's oldest player, having turned 37 last Saturday, and has yet to decide whether to continue next season, while Australian Steve Menzies is the record-holder, having played on with Catalan Dragons until just short of his 40th birthday last September.
Sinfield sees no reason why Peacock should not extend his contract still further if he continues to defy Father Time.
"There are things that he does on a rugby field that nobody else can do world-wide and he's still doing that at 36," said Sinfield, who at 33 could lead England in the end-of-season Four Nations Series.
"I don't mean the flash stuff, running 80 metres and scoring tries or tackle-busting, but that sort of courage and grit and determination and to continue fighting when you're absolutely dead on your feet.
"There is nobody else that can push themselves the way JP does. He's an inspiration every day, he's a warrior and to be able to play alongside him every week has been incredible.
"If he carries on like he is, I think we'll try talking him round to put off retiring and try to keep him going a bit longer."
You can watch all seven of Super League's Magic Weekend's games on Sky, including Wigan Warriors v Leeds Rhinos on Saturday from 7.15pm on Sky Sports 3HD