Challenge Cup: Widnes and Castleford breathe life back into competition as Wembley beckons
Last Updated: 10/06/14 1:44pm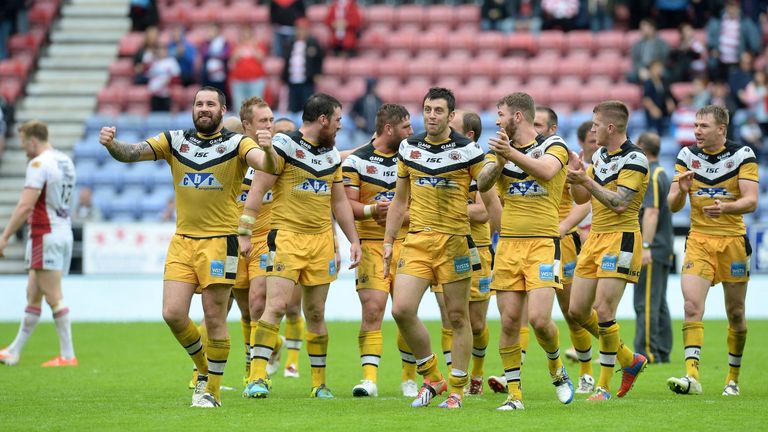 The Challenge Cup has had its critics in recent times. There have been questions raised over its place in the calendar, the scheduling of fixtures and the concerns at some teams not quite treating it with the full respect it surely deserves.
There were no solutions offered to those issues during the quarter-finals of this year's competition. That was never going to be the case. However, what the four fixtures did offer us was a timely reminder of just what the cup is all about. Call it magic if you like, except rather than a weekend in Manchester this happened over four days at differing venues.
For too long there's been the same three or four and I think a fresh face is terrific for the game.
Tony Smith
While Widnes waltzed past Keighley and Warrington bulldozed Bradford, the two matches sandwiched in between the landslide results offered us an example of what makes a knockout tie so special; drama, passion and the element of an upset.
The final scoreline on Friday night at Headingley was 25-12, suggesting Leeds had seen off the brave challenge of Leigh fairly comfortably.
In reality, though, it wasn't until the closing minutes that the Rhinos – favourites to lift the trophy for the first time since 1999 – were given an almighty scare by a Centurions team determined to show their Super League credentials, as well as maintaining their unbeaten run in 2014.
Their desire to do themselves justice may have spilled over a little when Matt Sarsfield got under the skin of Jamie Peacock, resulting in both being sin-binned for fighting. Leeds eventually landed a knockout blow with seven minutes remaining, Robbie Ward's try splitting open a 12-12 scoreline and puncturing the air out of the Centurions' charge.
While Leigh came up just shy, Castleford did produce another memorable moment in Challenge Cup history less than 24 hours as they ended Wigan's wonderful home run in the tournament.
No side had toppled the reigning champions in their own back yard since 1986, yet the Tigers were far from daunted by such a task. Indeed they actually seemed inspired, repeating their success of 28 years earlier. Although on that occasion it was semi-final and they duly went on to win lift the trophy – could history be set to repeat itself in 2014?
They will certainly fancy their chances of booking a trip to the capital after avoiding the Rhinos and the Wolves in the draw. Likewise Widnes will know they have a great opportunity to book a first trip to Wembley since losing to Wigan in the 1993 final.
Fresh face
Even Tony Smith seemed happy with the draw, admitting that while his Warrington side would now have to get past Leeds, it would be good for the Challenge Cup to see a fresh face go all the way.
"I don't really care who else is in there, as long as we're in there fighting for it but it's fantastic that there's going to be a fresh name at Wembley," Smith said.
"For too long there's been the same three or four and I think a fresh face is terrific for the game."
Smith's words speak volumes about his ability to see the bigger picture when it comes to the sport he loves, while also reflecting an opinion held by many. Of course that fresh face will start as the heavy underdog, but that didn't seem to bother Sheffield Eagles back in 1998, did it?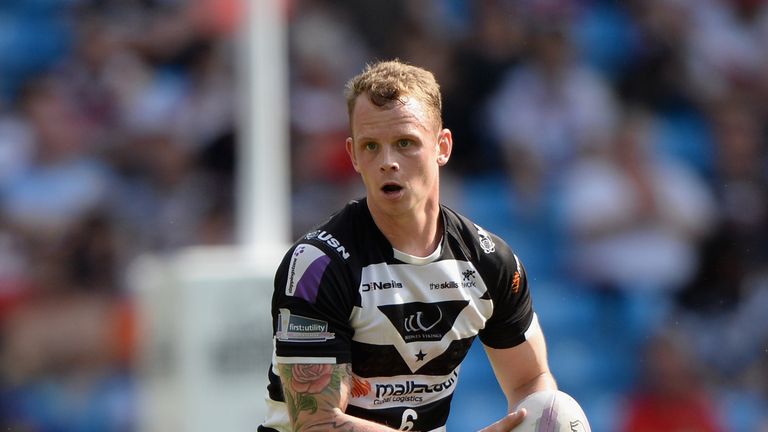 For Widnes and Castleford to reach such a stage is a little like the tortoise v the hare.
The Vikings have been on a steady upward curve in recent years, Denis Betts' squad being supplemented well by key signings, such as half-back Kevin Brown and forward Danny Tickle. They have shown their desire to build from a solid foundation, retaining the services of many who were with them during their time in the Championship.
While they have decided slow and steady was the best tactic to win the race, the Tigers have simply roared out of the blocks this year. Daryl Powell has orchestrated an astonishing transformation at the Jungle (whether you want to Mend-A-Hose or not) since arriving from Featherstone.
A side that was at one stage bottom of the table just over 12 months ago under Ian Millward saw their form pick up under Powell, who had to wait patiently for the chance to work again in Super League. This year they have been one of the most pleasing stories of the season, the new half-back pairing of Liam Finn and Mark Sneyd, coupled with a powerful pack led by the evergreen Craig Huby, seeing them right up amongst the front-runners.
They proved they are more than just pace-setters waiting to slip back by beating Wigan for a second time in the space four months, while only the Rhinos have a better points difference in the table.
"The club has changed so much in the last 12 months," Castleford skipper Michael Shenton admitted. "We needed a bit of rebuilding after kind of hitting rock bottom.
"It's a massive part of my life now I've got a family and them being happy is important. It's something Daryl has tried to create at the club. It's a happy place to be at the minute and it's showing with the way we're playing."
So will the tortoise still end up being first past the post, as in Aesop's Fable? Or will the hare have the stamina to complete the job? Whichever team makes it to Wembley will have richly deserved to do so, and their presence will be just what the wonderful Challenge Cup needs.