Fraser Dainton previews Friday's Super League clash between Wigan and St Helens.
By Fraser Dainton
Last Updated: 27/06/14 6:01am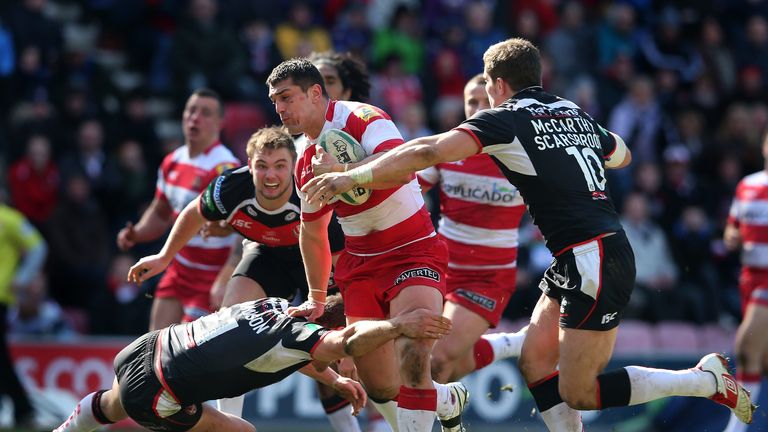 Sky Sports News' Fraser Dainton looks ahead to Friday's Super League clash between Wigan and St Helens – one of the biggest rivalries in any sport.
They are just nine miles apart, but depending on which side of Billinge Hill you come from, it may as well a world away. Families, friendships and work places will be as divided as it gets - there's no sitting on the fence here.
The rivalry between Wigan and St Helens is arguably the biggest - and bitterest -  in Rugby League, and every time the two sides meet, it's exciting, dramatic, fiery, and compelling.  
Warriors coach Shaun Wane - a born and bred Wiganer - was captivated from an early age.
"My Dad took me to watch Wigan when I was six or seven years old," he said.
"He was a staunch Wigan supporter, and there was a different manner about him when we played St Helens - he was a different person! I could see what it meant to him, and it rubbed off on me. When I was a player, Wigan and Saints derbies were up there with cup finals - they mean that much to the Wigan people."
Revenge
For St Helens' Australian born coach Nathan Brown, it didn't take long for him to discover just how important this game is to the fans of the Red Vee - and they're not shy of reminding him.
He said: "After the Catalans game a couple of weeks back, when we got quite a score put on us, I walked outside and there were a few fans who came over and said don't worry about it - they weren't even interested in the Castleford game the following weekend - they just said make sure you beat Wigan, and we'll be happy!"
At present, Saints are the team in the ascendancy - currently top of the Super League table, with five wins in their last seven games. But it was a similar story when the two sides met earlier in the season. Saints had won all 7 of their opening matches and seemed invincible. Wigan had stuttered, and went to Langtree Park as underdogs - but came away with a 33-14 win.
Saints will be eager for revenge, and their coach has noticed extra efforts as derby day approaches.
"This week there's going to be no shortage of commitment," Brown said. "Wigan get up more for this game than they do against anyone else, and I would expect Saints to be up for it too. If Wigan were first and Saints were down low, or vice versa, there's often been some bigger upsets in the contest because of the effort and commitment."
Toughness
Wigan will again have several youngsters in the side, having suffered a rash of injuries in recent weeks, but Wane has no qualms in giving youth a chance.
He said: "We work our kids hard here, we are very harsh on them, so when they come through to first team I expect them to be of a certain standard and toughness - I won't accept anything less. I make sure the players know how important this is.
"Wigan have won more trophies that anybody else, they're one of the most famous clubs in the world, and it's a huge honour to play for our club - I hammer that home to them."
The essence of this game is that it's a true representation of each town's sporting pride. The vast majority of players in each squad are born locally, and have come through the club's academy. As a result, pride is what drives these teams to play harder and faster than in any other match. And in my humble opinion, there are few fixtures in sport that can match it. Enjoy. 
Wigan v St Helens is live on Sky Sports 1HD on Friday at 7.30pm