Challenge Cup final: Castleford's local lad Andy Lynch to fulfill his boyhood dream
By Jonathan Doidge
Last Updated: 18/08/14 4:21pm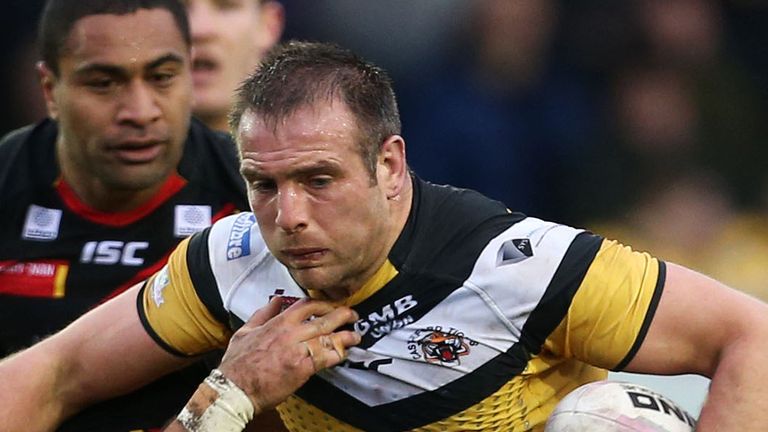 Andy Lynch says that winning at Wembley for his hometown club Castleford next weekend would fulfill a childhood dream.
The former England international, now in his second spell with the Tigers, learned his game with local junior club Kippax. Even in those days he wanted to walk out sporting the amber and black Castleford strip in the shadows of the Twin Towers.
On Saturday that hope will become reality for the 34-year-old prop forward, though it has been a long time in coming.
Having signed for the Tigers Academy from Kippax, Lynch made his senior debut in 1999 and went on to make 137 appearances before moving on to Bradford Bulls, where he was made captain, and most recently Hull FC.
However, despite being with some elite clubs it took 15 seasons for him to make it to Wembley, when he was part of the Airlie Birds team beaten 16-0 by Wigan a year ago. Now he has a second bite at the cherry and he says this time it means that bit more to him.
Great feeling
"To play for your home town club, one you have supported from being a kid at Wembley it's going to be a great feeling.
"I thought about it when I was playing for Kippax. It's something that you think about when you're a young lad.
"Actually, Kevin Beardmore took me at Under 16 and he had already been a Wembley winner with Cas. They got to the final again during that period and so it was fresh in the mind back then in the early '90s and it was something I wanted to do.
Everyone just can't wait to get out and play
Andy Lynch
"Obviously I was away from the club for a long time but to be back has been fantastic and I can't wait to travel down there on Thursday. Everyone just can't wait to get out and play."
The fact that the final is against arch rivals Leeds Rhinos spices the event up even further and Lynch admitted "It's great playing in a local derby at Headingley or at Cas. The atmosphere at both places is renowned but at Wembley it will be so much better.
"We're expecting a tough, physical game. We have got to be on our game because if we don't we know that Leeds will hurt us.
"One thing that we have shown this year is that we're all willing to work for each other.
"They've got great individuals like Rob Burrow, Danny McGuire, Zak Hardaker and Kallum Watkins and if someone does miss (a tackle) then we will have to be at our best to cover for them but that's what we've done all season."
Defence
Castleford's defence has been among the best in the competition and was again in evidence in their semi-final success against Widnes. Lynch says that is a source of great pride for the Tigers.
"It's a huge part of the game and most of the time we have defended really well this season. We work hard for each other and we know we'll need to do that more than ever in the final."
The teams have met twice in the First:Utility Super League already this season, Leeds winning at Castleford before they fought out a 24-24 draw at Headingley last month.
"We probably played well enough to win that night but we didn't and we can put that right on Saturday," said Lynch, who says that he can turn last year's losing experience into a positive one this time.
"It was a great experience last year. I know we lost the game but this time going with Cas is just massive for me.  I just want to enjoy the occasion and I would say the same to the rest of the team.
"You've got to take it all in. Look at the stadium when you go on the Friday, soak it all up. Then on game day you just have to get out there and concentrate on doing your job."
Battlefield
As for the stadium itself, the genial prop says that the old cliché of Wembley's 'wide open spaces' holds no water with him.
"It's a field that we're going into battle on and there's a massive prize at the end. We have to focus on our performance and not worry about how big or small it is.
"It didn't really feel any bigger than anything else last year because of the weather. We didn't get chance to throw it around too much, it was a forwards' battle."
Castleford's last Wembley win, in their pre-Tigers days, was a nailbiting 15-14 success against Hull KR 28 years ago. Although Lynch says that he is too young to remember it, he recently enjoyed listening to some members of that team speak about their success.
"The other week before semi-final we had some of '86 squad coming in and talking about it. That really helped.
"I'm not sure if there are plans for more of it but I would welcome it again as part of the coming week. There were players like Tony Marchant, Barry Johnson and John Joyner who all contributed and it was great to learn about their experiences."
Community boost
Lynch says that victory would be a huge fillip for what is arguably the biggest genuine community club in the game and would be a welcome boost for the town.
"It would be brilliant. There have been some tough times in the town in recent years but it is buzzing now and hopefully if we can do it we can get more money coming into the club.
"If we get a dry day then I think it will be an entertaining game. Both teams like to play an attacking game and whichever can stop the other from doing what they want to do on attack will go a long way towards winning the game."
As for coach Daryl Powell, who won the Challenge Cup as a player with Leeds in 1999, former England forward Lynch says he will be totally focussed on success for the Tigers this time.
He's a professional and he's a winner
Lynch on Daryl Powell
"Of course, yes. He's a professional and he's a winner. He will do all of his talking during the week. He will set us a game plan and there will be no ranting and raving from him before the game or at half-time. He stays calm and that helps us stay calm and focussed and hopefully we can get the job done."
If they do head back home with the famous old trophy then the front rower has no doubt which substance will have enhanced their performance and it's not an illegal one.
"Those Percy Pig sweets that they sell in M&S," he laughs. "Craig Huby is always bringing them in to the dressing room for us before every game and we love them. We'll probably have one or two before we walk out at Wembley!"