Smith defends touchline foray
Tony Smith defended his touchline intervention as Warrington came from behind to beat Widnes 46-12 at the Halliwell Jones Stadium.
Last Updated: 06/04/12 7:17am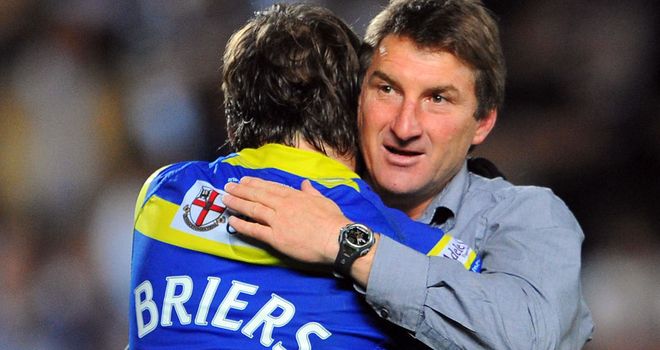 Warrington coach Tony Smith defended his touchline intervention after his side came from 12-0 down to beat Widnes 46-12 at the Halliwell Jones Stadium to return to the top of Stobart Super League.
The former England boss took the unusual step of leaving his seat in the stand to address his players at the side of the pitch during the early stages of the derby after becoming concerned over their slow start.
"We just had to make some adjustments to make sure we could get in the game," Smith said.
"It was played under different circumstances to what we are used to. When it's so severe like that, sometimes you have to make some adjustments.
"It was so drastic. It was the slowest and messiest ruck area we've had all year and we had to do something about it.
"We had to take it into our own hands, otherwise we were going to be there all day. We had to try and speed things up and, when we did, we were okay."
Smith does not expect any consequences from his actions but will await with interest the report of match commissioner Ian Ollerton.
"I don't know what the rules are," he said. "If it's contrary to the rules, I'll handle whatever the consequences are.
"I think there are bigger issues in the game at the moment than whether a coach speaks to a player on the sideline."
Toughness
The Vikings, fresh from a 76-6 hammering by the Catalans, were without seven first-teamers through injury but they made a dream start, catching their hosts cold by scoring two tries inside the opening nine minutes through Chris Dean and David Allen.
But Warrington gradually got on top and, after edging into an 18-12 lead by half-time, ran away with the game in the second half, with winger Chris Riley scoring two tries in the last four minutes to complete a hat-trick.
"Widnes were terrific in the early part of the game, running hard and they had momentum," added Smith.
"That's when we had to take some things into our own hands. I really liked the toughness of my players."
Smith left out five of his senior players and was delighted with the debut of 17-year-old second rower Ben Currie as well as the displays of two other youngsters, Gareth O'Brien and Brad Dwyer, who scored his first try for the club.
"All those young blokes did very well," he said.
Widnes remain rooted to the foot of the table but coach Denis Betts believes they are heading in the right direction.
"I think Widnes fans saw some of the things we're after, which is enthusiasm and effort," he said.
"We kept hold of the ball and put them under pressure in the first half but then reverted to type in the second half.
"We over-tried things, lost ball and kicked poorly. We're not stringing two 40 minutes together. Last week it was 25 minutes, this week 40 so hopefully we can put 60 minutes together and hold and maintain that."
Betts must now begin preparations for his side's home game against Bradford on Easter Monday.
"They're very dejected, beaten up and bashed about," he said.
"We're patching them up but it's hard when you've only 19 or 20 fit blokes."