Melbourne Storm warn players against jet-lag ahead of World Club Challenge
Melbourne Storm's management warned their players this morning to adjust to the UK time zone as quickly as possible.
Last Updated: 12/02/13 12:18pm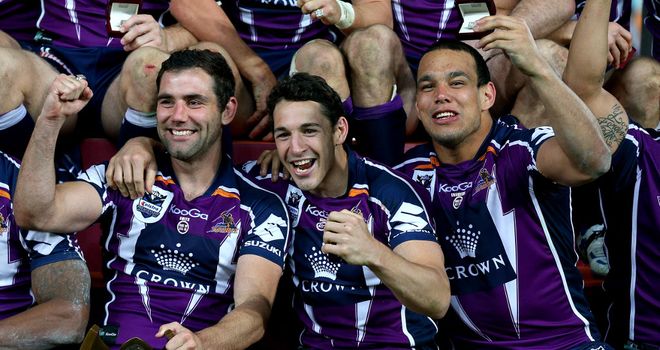 The Australian champions have prepared meticulously for their World Club Challenge clash against Leeds at Headingley on Friday week, even going as far as to appoint a designated "pest" to rouse napping players on their 24-hour flight.
"During the flight they had a routine of when to sleep or at least a recommendation," Storm football manager Frank Ponissi told his club's website.
"It is very hard to tell people when to fall asleep but we want to adjust to the UK time zone as quick as we can.
"The idea is to keep them up for the full day too, which is hard because we arrived at 5am. But we can't afford to have them dropping off in the afternoon, there's too much to get done.
"We want to give ourselves the best possible chance of winning by getting there early, doing the right things before, during and after."
Stretching session
Melbourne flew business class and held a stretching session during a Singapore stopover, as well as giving their players their winter kit six weeks early to deal with the British climate.
"We didn't give them a list of what to pack, we just gave them their big jackets and beanies now instead of in March," Ponissi said.
The squad will visit Eton College tomorrow and will take part in a training session with London Broncos' academy on Friday before heading to Leeds to set up camp at the weekend.