Super League: London Broncos sign George Griffin from Hull KR
London Broncos coach Tony Rea has continued the rebuilding of his squad with the signing of George Griffin from Hull KR.
Last Updated: 13/01/14 12:38pm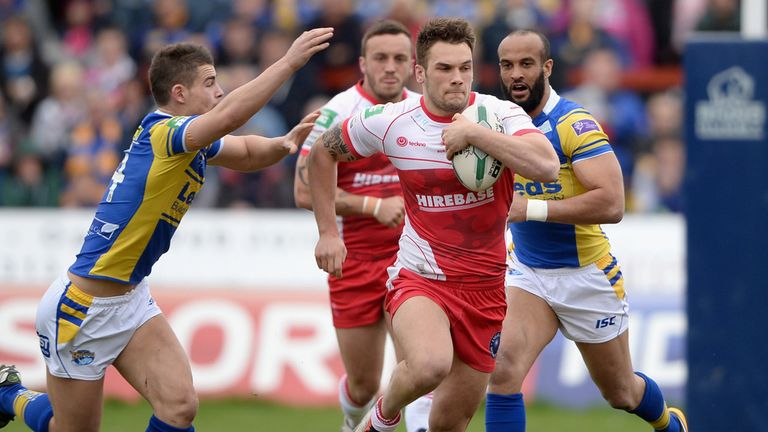 Rea and his new assistant Sean Long are expecting a busy few weeks in the transfer market ahead of the new Super League season.
Griffin is the first signing, a 21-year-old back-rower who joined Hull KR two years ago after a spell in Australia.
The Broncos retained 12 players from last season's squad, and because of uncertainty over the club's future, Rea is playing catch-up with their Super League rivals in confirming his line-up.
But he does not necessarily believe that is a problem.
"There are some adjustments, but these can make you stronger and tougher. It's very doable - not normal, but very doable," he told the club's official website.
"As far as recruitment, we're the strongest players in the market at this unusually late time. The players out there are hungry."
Speculation
One player the Broncos are being strongly linked with is Scott Moore, who has just been released from the North Queensland Cowboys.
Controversial hooker Moore was sacked by Widnes in 2012 and suspended by Huddersfield after going on a night out with actor Mickey Rourke.
However, Keiran Dixon is still recovering from knee surgery and will not be able to play in the opening few weeks of the season.
Meanwhile the squad has settled well into their new training facilities at Underhill, and Rea is excited at the prospect of playing their home games at The Hive.
"The training facilities have moved up a level," he said. "We've re-invested and relocated everybody. It gives you great energy and it really works; within a day it's home. Everyone wants to be here and is excited - it feels good. Everyone's really positive, enjoying it and pushing forward.
"We've got to work really hard, earn our right to get inside the games and enjoy the fight. It's about togetherness and being a club but it's not just about the team. The Hive is a wonderful stadium, it looks an exciting stadium to play in and the facilities are good and the ownership is vibrant."
"Everybody's been working hard, we've got capable people. We're going forward; we've got our hands on the steering wheel."