Super League: Scott Grix keen to make up for Huddersfield disappointment
Huddersfield full-back Scott Grix will be looking to put a disappointing end to last year behind him in the 2014 season.
Last Updated: 16/01/14 4:06pm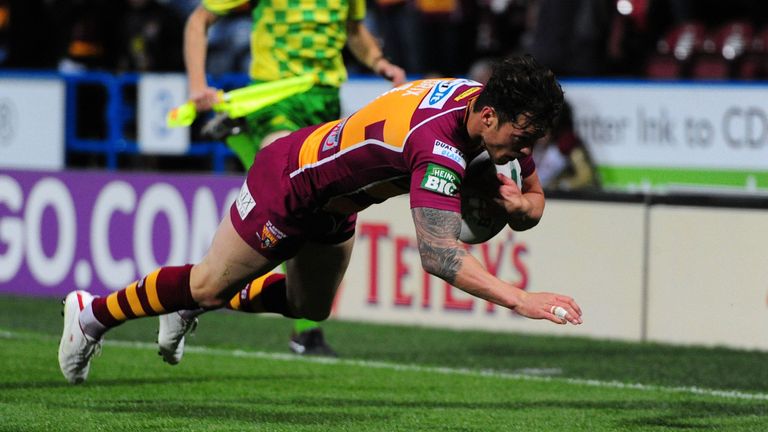 Grix was forced to sit out the play-off defeat to Warrington last term due to injury as Huddersfield failed to follow up their Super League Leaders' Shield success with Grand Final glory.
The Ireland international now says he has some unfinished business as he prepares to take on champions Wigan in the opening match of the season at the DW Stadium on Friday February 7.
"It was just awful not be able to run out there and try to help everyone achieve what you aim for all year," Grix told the Huddersfield Daily Examiner.
"I was really confident towards the back end of last season, and I was really enjoying it. I didn't miss many games and then in the match I got injured in we were already 50 points up.
"If I'd have done it in a semi-final and won by one point to get into the final then it would have eased the pain, but I could easily have come off at half-time in that game and the boys would have still won.
Unfinished business
"It's a shame, and as a team we've still got unfinished business.
"But for me personally, I didn't play in our biggest game of the season, so I need make sure I'm around when it matters this time."
Grix admits he now has a taste for silverware after picking up the Leaders' Shield last term.
"It will 100 per cent be classed as a failure if we don't get some silverware this year after winning something last season," he added.
"To be fair, I think that's been the case for a few years now. I think we've built up to this point and no longer is it acceptable to not be up there.
"Once you get there you just have to go that one step further. Now that we've been there it's a different focus, and we want to come away with some bigger silverware."