Super League: Lee Radford praises Richard Horne after Hull defeat St Helens
Last Updated: 01/08/14 11:27pm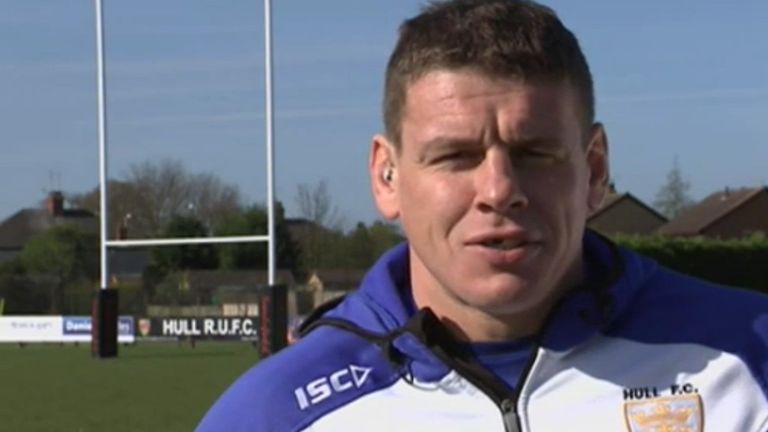 Hull coach Lee Radford believes Richard Horne's retirement announcement took all the pressure off his shoulders ahead of the 19-12 win over St Helens.
The 32-year-old former Great Britain half-back revealed in midweek that he was set to join the club's coaching staff after they declined to offer him a new contract at the end of the season.
He then went on to produce a man-of-the-match display against the Super League leaders, scoring Hull's first try and being hugely influential throughout.
"It's a strange thing, it was like a massive weight had come off his shoulders when he puts in a performance like that," Radford said.
"There were a few stand-out performances. After last week Tom Lineham has been on suicide watch all week and I thought he played really, really well and put a real stint in."
Hull, who held high-flying Castleford to a draw a week ago, are three points behind eighth-placed Widnes but Radford admits he is not optimistic about their play-off prospects.
He added: "It's a long shot but there are four games left and we have to turn up like that every week.
Energy
"We took off where we left off from last week, with some fantastic contacts in there. We said after Cas if we play with that energy you get chance to beat most sides in the competition and we've done that tonight.
"That's two weeks on the bounce we've been really physical and played with good energy. It's round 23 and we've learned how to kill a game off, which is really pleasing for me as a coach looking forward. The difference to winning those types of games and losing them is huge."
Paul Wellens registered his 1,000th point for St Helens but it proved little consolation for the table-toppers, who were forced to field Jordan Turner and Gary Wheeler as half-backs.
"To help them make life easier we need our forwards to do a little better. I didn't think we were as good through the middle as we've been in the last five or six weeks," Saints coach Nathan Brown said.
"Hull have got some good forwards but I'd like to think we could have done better. I thought they rolled down the field very easily.
"Horney has been throwing dummies and slicing through for years and he went through us twice today, which summed up our middle.
"We've got some things that we need to work on. We all know the people that have unfortunately fallen over in the past six weeks in key positions and the biggest thing for us to make it easier for the people who play in those positions now."