Roby aiming for Old Trafford
James Roby is determined to help St Helens get back to the Grand Final so they can break their five-year losing run at Old Trafford.
Last Updated: 14/09/12 7:45am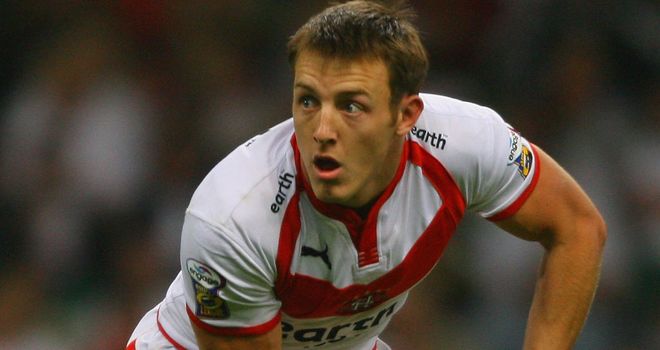 James Roby is determined to help St Helens get back to the Grand Final for a seventh successive year so they can break their losing run at Old Trafford.
Saints have not won the Super League title in six years having fallen at the final hurdle at the Theatre of Dreams for the last five seasons.
They begin their bid to get there again this year when the take on Warrington at the Halliwell Jones Stadium on Saturday knowing a win on their travels would put them within 80 minutes of making the trip to Manchester.
Hooker Roby admits it has been tough to come up short for so many seasons in a row, though the heartache has just made the squad more determined to get back to the Grand Final again.
Gutting
"It's gutting when you think about the amount of effort we have put in," said Roby, who has appeared in all six finals.
"We have constantly got to the final. That is a massive achievement for us, to get there six years on the row, but obviously the last five years have not been very happy for us.
"We really want to get there again this year and make it the other result, where we win.
"I think for the amount of work we have put in in recent years we definitely deserve it. Hopefully as a group of players we can do that for each other."
Saints looked far from Grand Final contenders in mid-March when they found themselves outside the top eight after picking up just a point from five matches.
That dismal run of form led to the departure of Australian Royce Simmons but since then there has been an upturn in fortunes under the guidance of caretaker coaches Mike Rush and Keiron Cunningham.
They have already recorded an away win over Warrington this year, while they finished the regular season in a positive fashion with victory over arch rivals Wigan at the DW Stadium.
Happy
"We are happy with the way we have been playing lately," England international Roby added.
"At the time when Royce left, lads were down because of the results.
"Royce is one of those blokes that all the lads were very fond of and we have all kept in contact with him.
"But, having said that, we have got a new coach and we are trying to achieve things at Old Trafford now.
"It is obviously a big game this week and we can't look any further than that.
"We have to prepare the best we can because Warrington are a quality team. They have quality players throughout their squad. They have finished second in the league and they fully deserve their status.
"There is an aura about them this year. They might be favourites for the game, I am not sure. We need to be at our best."