Super League: St Helens coach Nathan Brown furious over Gareth O'Brien injury
St Helens boss Nathan Brown was raging after Gareth O'Brien was injured in their 26-6 win over the Catalan Dragons.
Last Updated: 05/08/13 12:52pm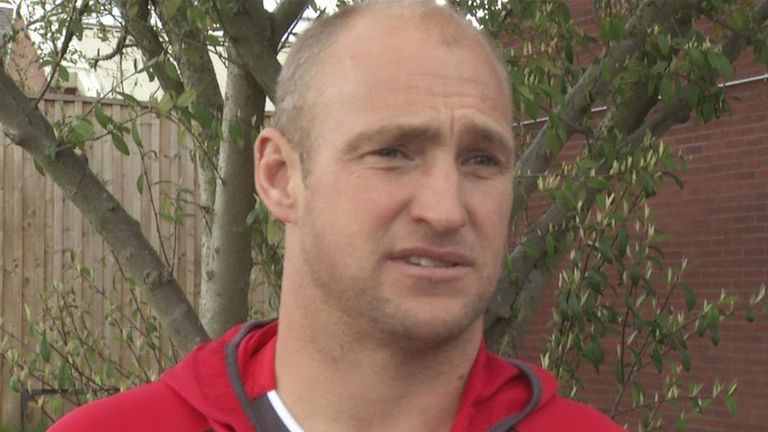 O'Brien was stretchered off after a high challenge by Zeb Taia that knocked him out cold and, although the New Zealander was placed on report, Brown felt the punishment should have been heavier and more immediate.
After the game Brown called on the Rugby Football League to start giving players better protection.
He said: "I've let the match commissioner know what I think about the tackle at half-time.
"I thought it was nothing short of disgraceful and the reason why they've done it (not sent Taia off) is because last week (Wigan second rower) Scott Taylor deliberately hit Gareth O'Brien in the head and knocked him out.
"I believe Zeb Taia is a lovely fella and a terrific player, but they've attacked his head deliberately and he'll (Taia) get nothing because the match commissioner will be shocking about it.
"I find it absolutely downright rude and disgraceful that they (the RFL) don't protect the players in the game, in particular the small ones, who are the key players.
"It is absolutely nothing short of appalling. (Huddersfield half-back) Luke Robinson got knocked out cold two weeks ago, sparked out cold, and he's as tough a kid as I've seen. What happened there? Nothing.
"It's just shocking. If one of my own players did it, I'd expect them to be sent off and then be suspended for a long, long period of time. Are we going to wait until some kid gets a broken neck or a broken jaw before the RFL act on it?
"It's like attacking the knees, there is still one club in particular that still do it. I'm really appalled that the RFL can allow this to keep happening."
Dragons coach Laurent Frayssinous did not give his opinion on the tackle and says the RFL will act as it sees fit.
"I will have to look at it again, but at the end of the day if it is a shoulder to the head then I'm sure the RFL will give a punishment. I'm on the same page as Nathan, but I don't want us to cop a ban now and the others over previous weeks haven't copped it," Frayssinous said.
"It will be interesting to see what happens. I have to see the images again, but I'm not sure Zeb tackled the head."