St Helens chairman Eamonn McManus would support restructuring of Super League
Eamonn McManus says he is in favour of restructuring Super League, which he believes would re-ignite the domestic game
Last Updated: 16/10/13 11:14am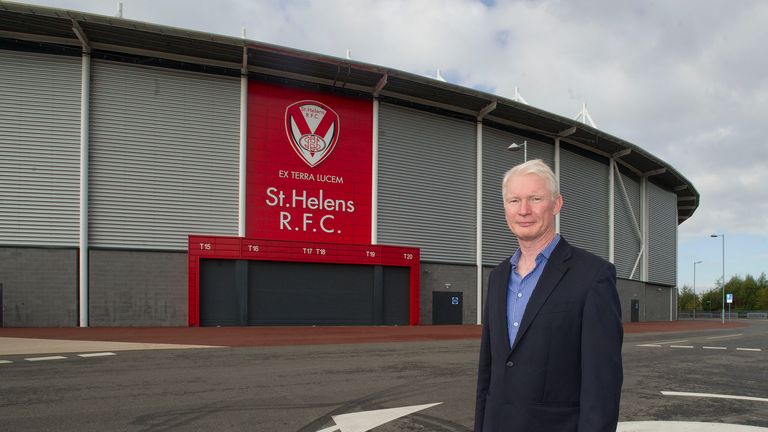 The plan put forward by the Rugby Football League (RFL) is to create a new league comprising two divisions of 12 teams, with automatic promotion and relegation from 2015.
However, Wigan chairman Ian Lenagan does not want the RFL to rush into making changes until every avenue has been investigated fully but McManus is more upbeat.
Speaking to the club's official website, McManus said: "I believe it will reignite Super League and the Championship as well as strengthening and improving the Challenge Cup.
"It will produce a season where every game, every week, at every level, will count and be competitive.
"It will be compelling to spectators, sponsors and the TV alike and will produce a virtuous circle commercially both centrally and for the individual clubs.
"Super League Clubs were in favour of this at the last Super League meeting and there was unanimous agreement that this was a hugely positive and necessary step which must be adopted in the wider interests of the game."
Priority
The RFL had called an EGM to try and take the idea further but, following Wigan's intervention, decided to postpone the meeting.
This is now expected to take place following the World Cup.
McManus added: "It must be our priority objective to compete commercially, and therefore in playing standards, with the NRL in Australia and New Zealand and to produce a financially vibrant sport.
"The new league formula will provide a great platform for this and I'm really excited about the prospect.
"It is also a great and opportune time to have a newly appointed RFL and Super League Chairman in Brian Barwick, whose highest level background in media and in professional sport can assist rugby league greatly in its strategic direction and commercial strengthening.
"He deserves our full and unqualified backing as we seek to strengthen for the benefit of all."